Google Pixel 6 leaks and rumors suggest, that it will come as the best Android phone of this generation. Google might be doing a lot of new things with the Pixel line coming with a twist in Pixel 6. Leaker Jon Prosser has shared renders of the upcoming phone from Google. According to the pictures of Google pixel 6, it is something new and unique from the previous Pixels.
As compared to the iPhone 13, which would be a new version of the iPhone 12. The Pixel 6 is expected to beat iPhone 13 due to its amazing unique design and features. So, if you are thinking to buy iPhone this year, then wait for Google Pixel 6 as it might attract you more. Moreover, Pixel 6 Pro rumors about specs and camera are even more awesome, so far.
Design of Pixel 6
The design of Pixel 6 is creating a buzz on the internet. On the back, it appears to be glossy plastic/ glass material, with a horizontal camera strip stretching through the whole width of the phone's body. The color scheme is different from the expected solid color design from the previous generations, namely boring designs Google Pixel 4 and Google Pixel 5a. There is an eye-catching orange bar on top of the back, horizontal camera. Which is an interesting design and innovation from Google. Google, till the previous generation of Pixel phones, was known for its boring and monotonous design.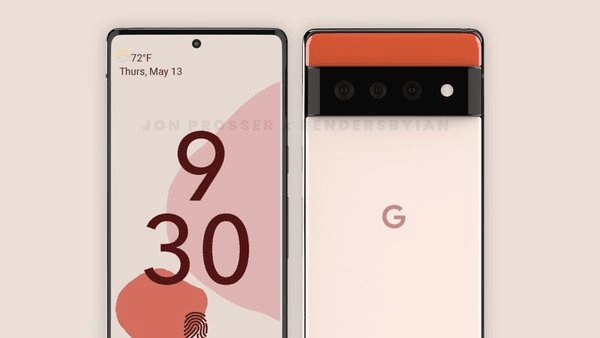 If we talk about iPhone 13 rumors, iPhone 13 models will be thicker than iPhone 12 counterparts with larger camera arrays giving old look to the mobile phone.
Google Pixel 6 Camera
We have noticed from the leaked images that the selfie camera of Pixel 6 will be in the center of the display at the top, like in Samsung with a narrow bezel than past Pixels. This would be a shift from the left-aligned camera cutout we've seen earlier.
It may also support 4K video recording. Along with this, there is an under-display fingerprint sensor similar to the one found in ZTE Axon 20 5G. The rear side of the phone has a horizontal bar that houses the back camera. On the top, there is another orange-color bar and a white-color one below the camera to give this phone a unique look.
During the recent Google I/O event, camera software enhancements have been revealed for capturing images of darker skin tones better. Google is massively playing with the camera software to attract a larger audience and that can be a worry for iPhone 13.
No doubt, the image quality of Google smartphones has always impressed us but this time we expect the more impressive quality of pictures by Pixel 6. In another leak, it is revealed that Pixel 6 has two cameras and an LED flash. While Pixel 6 Pro uses a three-camera configuration. We have heard that Google is aiming, with Pixel 6 to be amongst the best camera smartphone of the current generation.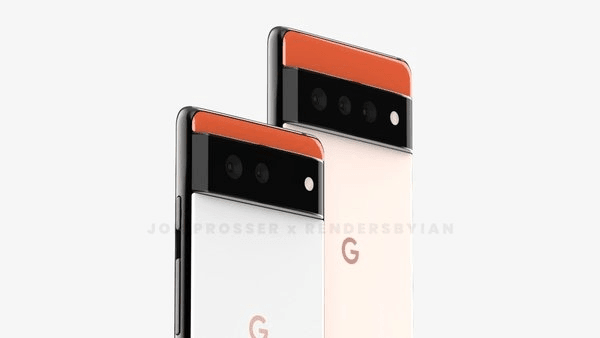 The cameras of the iPhone 13 will be similar to iPhone 12. It will come with flatter rear camera modules. You can expect minor changes in aperture and hardware but not drastic ones.
Hardware and Performance of Pixel 6
About a year ago, rumors suggested that Google is developing its own chipset with the help of Samsung. Now that Whitechapel (code name of Google chipset) is ready for use, so we think Pixel 6 may incorporate this in-house chipset co-developed by Samsung that is known internally as Google silicon 101 (GS101).
This will be the first-ever attempt of Google to include Whitechapel, still, we expect this to be better than more common Qualcomm Snapdragon 888 or Apple A14 Bionic chipsets.
Conversely, it can also have Snapdragon 780G chipset but actual information is yet unknown. If Google will shift to its own chipset as iPhones uses their own, it will be a great achievement for Google. There is also evidence that Pixel 6 may have ultra-wideband technology that could connect various devices for tracking location. Thus adding one more feature to compete against the new iPhone 13. Ultra-wideband technology is used by Apple for airdrop feature and now in Airtags through U1 chips.
However, downside for Pakistan is that ultra-wideband spectrum is not available, and we covered the story earlier.
In regard to performance, we don't know much, however, none of the specs will be weaker than what we observe in the Pixel 5. That means wireless charging, an IP68 rating, at least 128GB of internal storage, 6GB of RAM, etc will be seen.
This time in iPhone 13, the chipset is moderately upgraded and will be more alike with iPhone 12 chipset. The bigger upgrade in iPhone 13 is that of refresh rate i-e 120Hz in its pro version. But this high refresh rate is already seen in many Android mobile phones for years.
Price
The price of Pixel 5 was decreased by $699 thus making it an affordable one. The exact price of Pixel 6 is unknown but we expect that Google will continue to attract its customer with affordable phones. And most probably Google Pixel 6 will also come up with the price range of $699 or a bit higher.
Talking about iPhone 13, it has four variants with different price ranges. A 5.4-inch iPhone 13 mini, a 6.1-inch iPhone 13, a 6.1-inch iPhone 13 Pro, and a 6.7-inch iPhone 13 Pro Max. The expected prices are $699, $799, $999 and $1,099, respectively.
Release Date
Google is somewhat pridictable in terms of launching date. Most of its phones debuts in October except Pixel 5 which move to september. Our educated guess suggest that Pixel 6 will also come up in October 2021. But there is no confirmation in this regard.
Conclusion
Well, this is only the limited information about Google Pixel 6. Not much has been announced yet so we cannot exactly expect its specifications. Also, we could not judge whether Apple iPhone 13 or Google Pixel 6 will hit the market and attract our audience. However, we believe, the new features of Pixel 6 such as an in-house chipset, camera bar, and unique look will compete against iPhone 13 which is rumored to be a modified version of iPhone 12.