AirTag and Tile tracker both serve to relocate your lost items and hence deserve the Airtags vs Tile comparison review. Which one suits you and which of them offers the best value for money. If you're worried that you often forget things and scramble to relocate them then you must need a tracker. Apple launched the Airtags in Spring loaded Event on the 20th of April.
Tile has been serving in the lost item tracking business since 2013, It can help you locate your keychains, backpack, and other lost items via Bluetooth 4.0.
Apple recently launched AirTags, which can find your lost items via GPS system and Bluetooth. It is one of the cheapest items from Apple that you can own. A small circular wireless device that can be attached to keys, backpack, or luggage.
Apple used its eco-system to fit the Airtags seamlessly into it and hence got an edge over all similar devices from outset. On the other hand, Tile has partnered with Amazon sidewalk to enhance its network.
Let's get into the detailed description of both of these amazing devices and see which one better suits you.
Tile Tracker
It is the most popular locating device that can be attached to your keys, luggage, and backpack. Use a tile app on your android mobile, iPhone, or other smart devices to track your belongings via Bluetooth, and if you are away from the Bluetooth range, then you can track the last location of Tile with your Tile app. You would be amazed to hear that in Manhattan and San Francisco, you will find many tile users even in one block. Isn't it pretty cool!
Types of Tile trackers
Tile Mate
The Mate is the advanced version of Tile. it has a louder alarm sound and a longer range. Along with this, it has a replaceable battery, which makes it the best thing to buy as compared to other tile devices. This tracker is around 0.24 inches thick and 1.4 inches across. It has a lightweight of 0.2 ounces and is of round corner square shape. The cheapest Tile Bluetooth tracker to buy, so it is best for people who are looking for a low-cost product.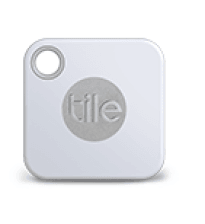 Tile Pro
The Pro is the most powerful and durable Tile tracker with the largest range of 122m. Known for the loudest ring tone so you can find your lost items even in a huge crowd. Possessing a replaceable battery that can last for a year. Dimensions are 42mm x 42mm x65mm and it weighs 0.5 ounces.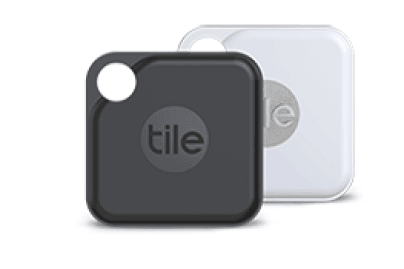 The Thinnest of All are Tile Slim
It is very thin and has a shape like a credit card so it can be easily fitted on a key ring or a wallet. It is available in Ruby Red, Azurite Blue, black, and Rose Pink, and is 2.1x 2.1x 0.09 inches.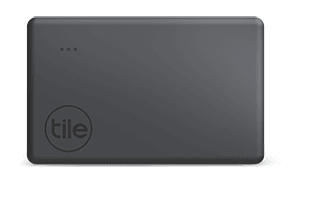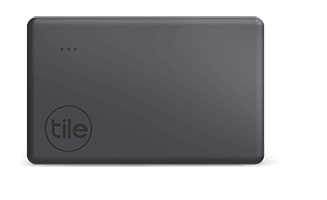 Smallest of Tiles-The Tile Sticker
It is the smallest, black color and, circular-shaped device. That can easily stick to any surface because of its flat adhesive property. And it does not have a replaceable battery but as per the company, its battery lasts for 3 years.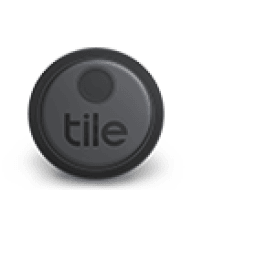 Specifications of All Tile Types
| | | | | |
| --- | --- | --- | --- | --- |
| Features | Tile mate | Tile pro | Tile slim | Tile sticker |
| Colour | White | Black ,white | Black | Black |
| Range | 200ft/61m | 400ft/ 122m | 200ft/61mm | 150ft/46m |
| Volume | Louder ring | Loudest | Louder ring | Loud ring |
| Battery | 1year replaceable | 1 year replacable | 3 year built in | 3 year built in |
| Water resistant | Water resistant | Water resistant | Water resistant | Waterproof |
| Dimensions | 35mm x35mm x6.2mm | 42mm x 42mm x6.5mm | 86mm x54mm x2.4mm | 27mm x7.3mm |
Tile Trackers
Apple Airtag
This years Apple Spring Event saw unveiling of long awaited Airtags.
A tracker that could be attached to important items and belongings which you want to track as you can't afford to lose them. Using a GPS tracking system and Bluetooth to locate your lost device.
It comes with a replaceable battery with 1 year of battery life. The new battery could be easily replaced and is cost-effective. This amazing device is IP67 dust and water-resistant with an incorporated speaker within it which could be activated while searching for the Airtag.
Airtag design
This is a small button-like round device that is 1.26 inches in diameter and 0.39 ounces in weight. It is flat on one side and convex on the other. You can personalize it by engraving emojis on top of it at no cost.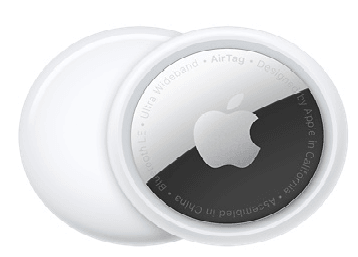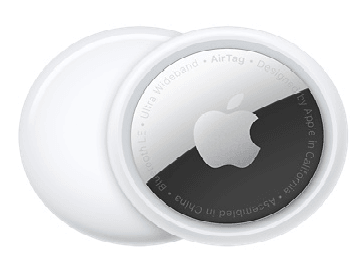 Precision Finding
One of the best features of the Apple Airtag is precision finding. It has Apple's U1 chip that uses Ultra-Wideband technology. With this, you can accurately determine the direction as well as the distance of the lost Airtag. This feature is only compatible with Apple iPhones 11 and 12 series. If you are reading this article in Pakistan, then it's important to know that the Precision finding feature will not be available for Airtags in Pakistan.
Use Find My app on your iPhone
Air Tag is used with the help of Find My App, which is pre-installed on your iPhone. This app allows you to check the current location of all your items with the tracker. If you misplace the item with an attached AirTag and it is within Bluetooth range, you can use the Find My app to play a sound from the device to help locate it.
If the device is not in Bluetooth range, you can place Airtag in lost mode and you will get notifications from this application when it will be in range. Moreover using Apple Eco-system, any iPhone user who is passing by the Airtag would update the location of Airtag and you can monitor it on the map.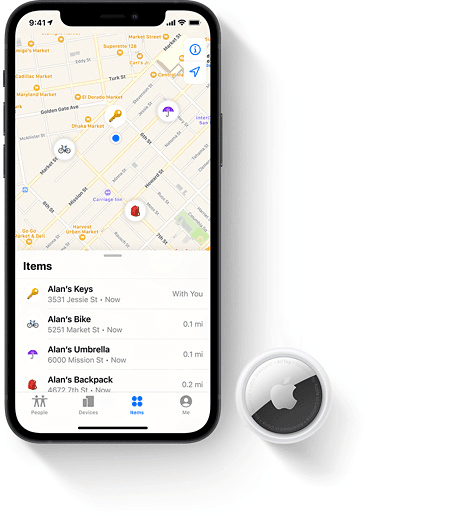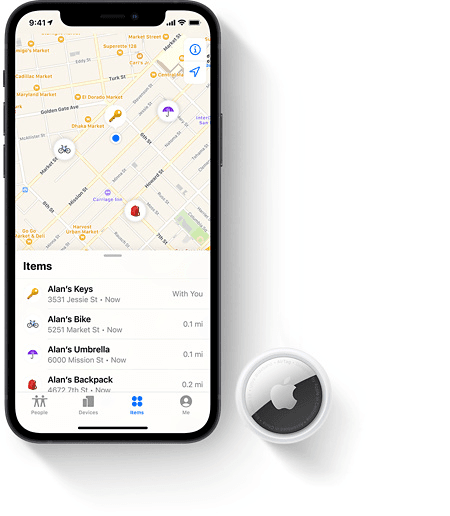 Airtag vs Tile: Comparative Analysis
Airtag and Tile both are amazing tracking devices with different designs and features. Which one will best suit you depend on your exact needs? Let us compare both of these so that you can grab the best for yourself.
Design-Apple AirTags vs Tile Tracker
Apple Airtag is a small stainless steel coin that can slide into your bag. It does not have an adhesive property, and you must have another accessory to attach it to your bag or wallet. if you want you can have personalized engravements like emojis on the surface of the Airtags.
Conversely, Tile is available in multiple designs. The Tile Mate and Tile Pro have a hole through which you can attach them to the keychain. Tile Slim is a flat device like a credit card that can be easily placed in your wallet, and Tile Sticker has an adhesive back that can stick onto the surface of your belongings.
Tile trackers are available in multiple colors which gives it a beautiful look for the viewers and it has a button on its surface that can be pressed to relocate your mobile phone.


AirTag vs Tile Tracker – Connectivity
Tile can track your lost keychain, luggage, wallet, or other essentials by Bluetooth tracking with a range of 5m. It has a 'community tracking' feature with which you can see the location of your tracker even if it is out of Bluetooth range.
On the other hand, AirTag track via Bluetooth and ultra-wideband technology. Ultra-wideband range is 5cm and it can help you detect the distance and direction of your items. Apple has plugged in the feature of Find My App in iPhones. This gives them a better advantage in the competition with tile. You can use this pre-installed app to get the more precise location of your Airtag.
Compatibility-AirTag vs Tile Tracker
Only iPhone owners can use Airtags since it works within Apple's ecosystem. It does not work with Android devices that most of us own. With iPhone 11 and iPhone 12, there is an added advantage of precision finding which helps you detect the exact direction and distance of your lost item. However, Apple is smart enough to know that, and that's why it has offered other similar devices to use the Find My App feature. Which is a win-win situation for Apple. Because other companies, if opt to come into the Apple ecosystem would be paying Apple some of their profits.
The best feature of Tile is that it is compatible with Android as well as iPhones. You need to install the Tile app on your gadget to access the 'Community finding' feature with your tracker.
AirTag vs Tile tracker – Battery
A CR2032 battery comes with Airtags that last for a year. It can be easily replaced by users themselves.
The Tile Mate and Tile Pro have a one-year replaceable battery while tile slim and tile stickers have a built-in battery with three years of longer battery life.
Price-AirTag vs Tile Tracker
You can buy one pack of Airtags in 29 $ and four in 99 $ from Apple official website.
The Tile Mate will cost $24.99, Tile Slim can be purchased for $29.99, The Tile Pro is $34.99, and the Tile Sticker is $39.99 for two or $59.99 for four. this can be purchased from Tile's official website.
Conclusion
Tile trackers and Airtag both are useful with great features. We have explained all the specifications of both devices and have compared both trackers, now it's your choice to grab the best.