The debate over Snapdragon 888 vs Exynos 2100 is getting hotter, and all for the right reason. Samsung strategically releases Exynos and Snapdragon versions of most of its premium smartphones for quite some time. And this has been the case in S21 Ultra as well. Snapdragon 888 in USA and China and Exynos 2100 around the globe. This difference leads people to always compare the performance and characteristics of the two. So here is our take on Exynos 2100 vs Qualcomm Snapdragon 888!
In the case of Samsung Galaxy S21 ultra, the battle is between Qualcomm Snapdragon 888 chip (US version) and Samsung's own Exynos 2100 chip. Let's get a quick look at the specifications comparison first.
Snapdragon 888 vs Exynos 2100 – Specifications Comparison
| | | |
| --- | --- | --- |
| Chipset | Exynos 2100 | Qualcomm Snapdragon 888 |
| CPU ft | 1x 2.9 GHz – Cortex-X1, 3x 2.8 GHz – Cortex-A78, 4x 2.2 GHz – Cortex-A55 | 1x 2.84 GHz – Kryo 680 Prime (Cortex-X1), 3x 2.42 GHz – Kryo 680 Gold (Cortex-A78), 4x 1.8 GHz – Kryo 680 Silver (Cortex-A55) |
| GPU | Mali-G78 MP14 (14 cores) (Vulkan 1.1, OpenCL 2.0, DirectX 12) | Adreno 660 (Vulkan 1.1, OpenCL 2.0, DirectX 12) |
| Manufacturing node | 5nm | EUV 5nm |
| Multimedia support | Max display res: 4096 x 2160, Video capture: 8K@30fps, 4K@120fps; playbak: 8K@60fps | Max display res: 3840 x 2160, Video capture: 8K@30fps, 4K@120fps; playback: 8K@60fps |
| Neural processor (NPU) | Triple-core NPU (up to 26 TOPS) Hexagon 780 26 TOPSModem LTE Cat. 24, up to 3000 Mbps down, 422 Mbps up; 5G SA/NSA/Sub6/mmWave, up to 7.35 Gbps down, 3.67 Gbps up | LTE Cat. 22, up to 2500 Mbps down, 316 Mbps up; 5G SA/NSA/Sub6/mmWave, up to 7.5 Gbps down, 3 Gbps up. |
| storage | UFO 3.0 | UFO 3.0 , UF0 3.1 |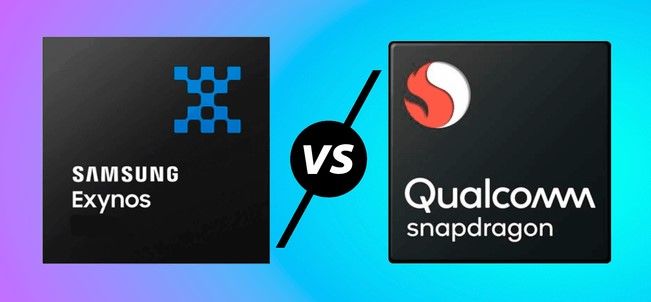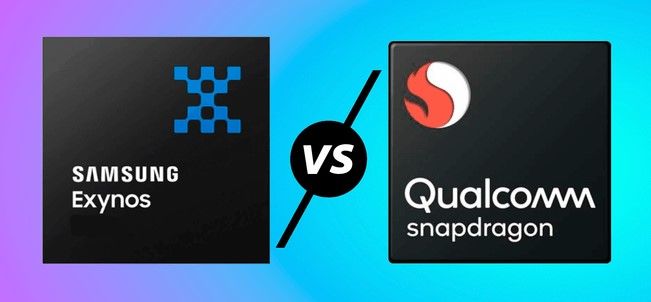 Snapdragon 888 vs Exynos 2100 -Benchmark Tests
To evaluate which of the two chipset works better we ran multiple benchmark tests and the results are quite interesting. Let's have a look at the test scores!
Antutu Benchmark Results

Firstly, we ran the AnTuTu benchmark test, which has become the standard performance test. As a result, we got about 650,000 on Exynos which was quite good but then we get 690,000 on Snapdragon and that comes out 6% ahead. Secondly, The 3d mark benchmark test was done and Exynos was even 7% back from Snapdragon as the results were 5303 vs 5699.
GFX Benchmark Results
To get a better possible comparison. thirdly, we jump to the GFX test which is a threshold of graphics simulation. As a result; we found Exynos was at 66 Frames per second and Snapdragon having 70 Frames per second. Since Graphics are really important for consumers these days and this result turned out really interesting because Snapdragon was again leading by 7%.
Geekbench Results
Now if we check out the Geekbench test because it is a little more CPU focused. We see that Exynos compete with Snapdragon on multicore performance. Moreover, Snapdragon has the edge on single-core performance. Results were 1097 and 1127 on single-core performance and 3523 and 3486 on multicore performance each. Here we see Exynos winning on multicore performance and that's really interesting.
Snapdragon 888 vs Exynos 2100 – Which one is better?
As there are always going to be some real-world differences if you want to nitpick. For instance, engine and developer optimization is still overall better on Snapdragon chips. So we passed both the handsets from more tests!.
If we talk about running the PlayStation emulator multiple times we find out Exynos to be at 27 frames per second and Snapdragon whole of 30 Frames per second which is not a very big difference but at least worth checking.
Read: Samsung Galaxy S21 Ultra vs Galaxy Note 20 Ultra: Which smartphone is best for you?
Snapdragon 888 vs Exynos 2100 – Battery life and overheating Results!
For further strong comparative evaluation of battery life, we charged both the phones to 100% and after running Antutu multiple times. We also recorded 30 minutes video and playing the same game on each Mobile. we got about the same battery percentage on both handsets. Whereas, the Snapdragon 888 also has the edge in terms of power efficiency per watt. hence, an ever slightly-better overall battery endurance inside the Galaxy S21 Ultra.
Read: Realme GT-5 Snapdragon 888 Geekbench results
Let me also tell you that the Antutu result showed that Snapdragon was about 19% better than Exynos. Which is due to the CPU temperature. We found out that when the phone was just charged and idle the CPU temperature was 43.2° C in case of Exynos vs 34.1°C in Snapdragon. After using it to the peak we find that Snapdragon was still cool at 43°C vs 60° C.
S21 Ultra – Snapdragon 888 vs Exynos 2100 – Camera Comparison
Now if we talk about camera performance, quite shockingly we get the real disadvantage of having the Exynos on2100. Both the phones have the same sensor and same lense but different processors give quite different results.
Snapdragon snaps were quite upscale. It gave us better noise reduction and enhanced image once compared side by side. Snapdragon gives us a bit better and more information about the texture of the object but unfortunately Exynos doesn't.
Read: Apple iPhone 13 – All Leaks and Rumors
Secondly, the live camera view shows a very clear difference between these two chipsets in S21 Ultra. As if, two people seeing the same object with the same distance but process differently because they have different brains.
Call comparison evaluation
Again, the difference is not huge by any stretch of the imagination, especially since the common consensus seems to be that Qualcomm's X60 5G modem is a bit more efficient than Samsung's Exynos one.
We better know that the competition in the market is always better but if Exynos will not improve its chip and we see Exynos flopping every time there is the chance that people will only be left with the option of Snapdragon chipset. It's not that Samsung has not worked on Exynos and didn't make it better. Because if we look back, last year Samsung Exynos chip was 10 to 20% better in battery performance in the Samsung S21 series, and this time it's quite better than before.
Why Samsung doesn't stick with either snapdragon or exynos?
Well interesting question. And the answer is quite interesting.
The reason why Samsung keeps on producing two variants of smartphones basing on Exynos and Snapdragon is that Samsung was in a strategic partnership with American-based Snapdragon chipset. Later on, it started producing Exynos which is Samsung's own brand. The first reason is that Samsung's capacity for producing snapdragon isn't much and it can't match its own demand.
And the second reason is that while making a partnership with snapdragon it was stated in the contract. That Samsung will produce a minimum of mobiles in snapdragon variant. The exact detail of the percentage is not known. Moreover, in certain countries only the Snapdragon variant to be sold as per the contract.
Hope it helps in answering that question. So whichever you buy we know the difference is not very huge but snapdragon has a slight edge and this is the advantage we want!!
Read : Apple iPhone 12 Pro Max vs S21 Ultra Camera Wars
Is Snapdragon 888 better than Exynos 2100?

As per our analysis and tests, snapdragon is much better then Exynos 2100 in almost all aspects. A better performance, good camera results. Less battery drainage and heating issues.
Why Samsung makes two variants of flagship devices with different chipsets of snapdragon and exynos
Samsung was in partnership with American based snapdragon chip maker. As per the contract, Samsung can only launch snapdragon base smartphones in USA. Moreover, Samsung's own chip making capacity is low so Exynos chips production cant catch up with number of phones that Samsung produces.