This comparison of Galaxy S21 ultra vs Galaxy Note 20 Ultra will help to choose the best one having the right big-screen flagship. Fundamentally, both devices are similar in many features. As we have discussed in the review of Samsung Galaxy S21 Ultra's, this device is the most Note-like Galaxy S series smartphone, because this is the first in this family to support the S pen.
But when our team observed keenly, we saw many differences between Samsung Galaxy s21 Ultra vs Galaxy Note 20 Ultra, From the prices to storage and design to processor and cameras. You can see from our Galaxy Note 20 Ultra review that this device is still an intimidating handset.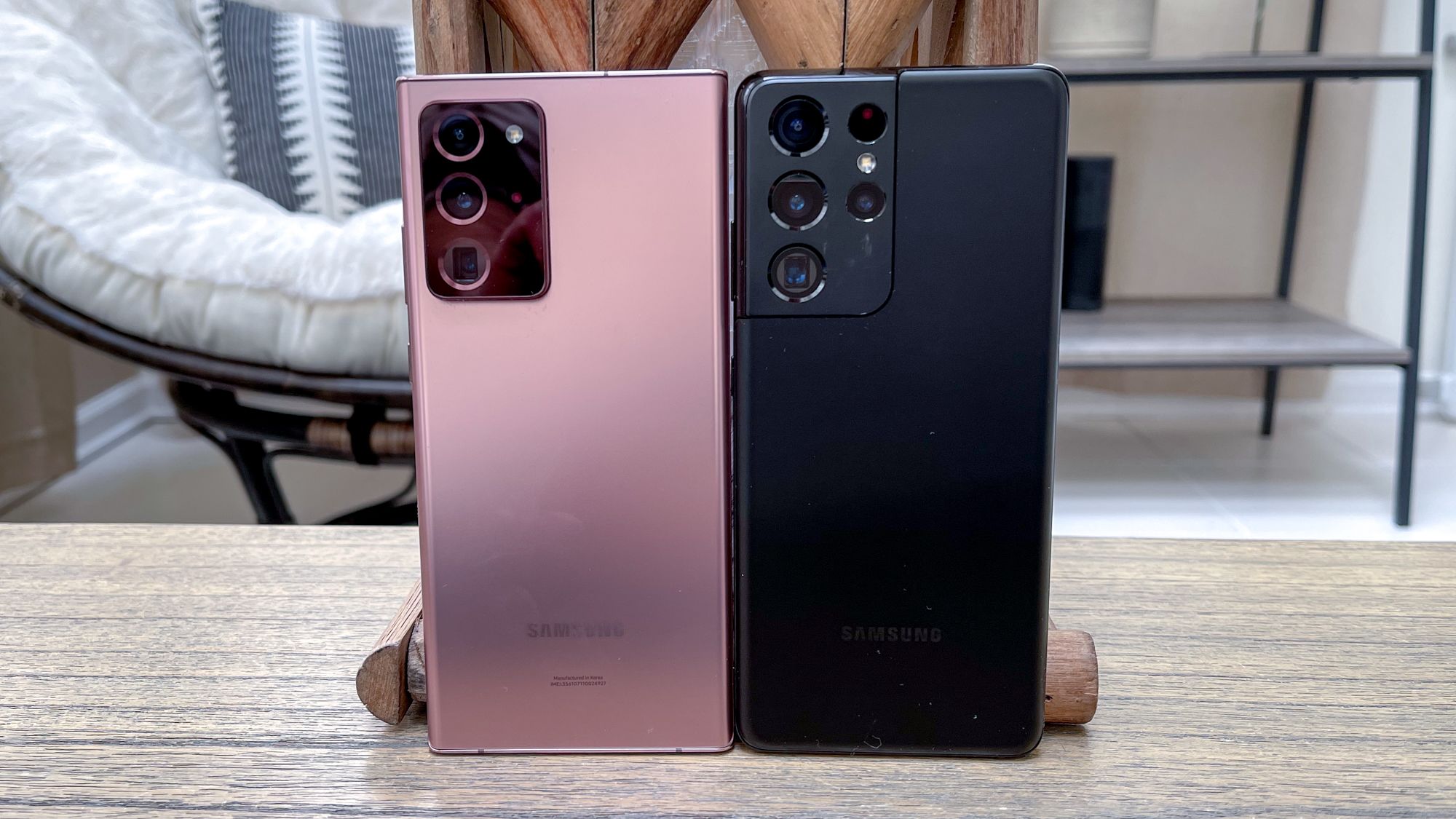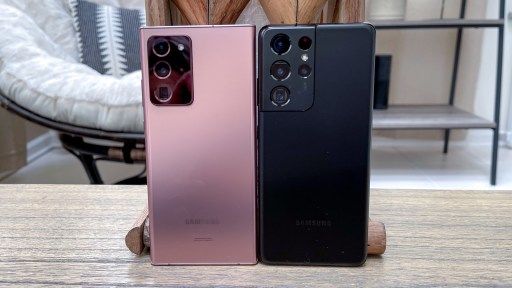 But now it's been surpassed by the new Samsung mobiles. Here we are comparing these two devices side by side to help you decide which one suits your needs.
Galaxy Note 20 Ultra

Galaxy S21 Ultra

Price
$1299
$1199
screen size
6.9 Inches dynamic AMOLED (3088*1440; 10Hz – 120Hz)
6.8 Inches dynamic AMOLED (3200*1440;10Hz – 120Hz)
CPU
Snapdragon 865 plus
Snapdragon 888
RAM
12GB
12GB,16GB
Internal Storage
128GB, 512GB
128GB, 256GB,512GB
MicroSD
YES
NO
Rear Cameras
108MP Wide(f/1.8);
12MP telephoto with 5x optical zoom (f/3.0);
12MP Ultrawide (f/2.2)
108MP (f/1.8) wide;
12MP (f/2.2) Ultrawide;
10MP (f/2.4) telephoto with 3x zoom;
10MP (f/4.9) telephoto with 10x zoom
Front Cameras
10MP (f/2.2)
40MP (f2.2)
Battery Size
4500mAh
5000mAh
Wireless
5G, Wi-Fi 6, UWB
5G, Wi-Fi 6E, UWB
Size
6.49*3.04*0.32 Inches
6.5*3*0.35 Inches
Colors
Mystic Bronze, Mystic Black, Mystic White
Phantom Silver, Phantom Navy, Phantom Brown, Phantom Black, Phantom Titanium
Weight
7.34 ounces
8.04 ounces
S21 Ultra vs Note 20 Ultra – Price:
The price of the Galaxy S21 Ultra is $1,199 which is $200 less than its predecessor. But the Galaxy Note 20 Ultra is expensive than these two with the price of $1,299.
Color Comparison:
When it comes to color, S21 Ultra has more colors including Phantom Black, Phantom silver, Phantom Titanium, Phantom brown and phantom navy. But the Note 20 Ultra comes in just Mystic Bronze, Mystic White and Mystic Black.
Storage:
Galaxy S21 Ultra has three storage options 128GB, 256GB and 512GB. The 256GB model costs $1,249 and 512GB costs about $1,379. The Galaxy Note 20 Ultra has just two storage variants.
S21 Ultra vs Note Ultra- Design and Feel:
There is an old saying by someone that "old is gold". The same case is here, although it is right that the technology is introducing more updated and branded devices with many new specifications same as Galaxy S21 Ultra. But still, many will prefer Galaxy Note 20 Ultra because of its elegant design.
Note 20 Ultra is small, thinner, and very light in weight to hold it easily in hand. On the other hand, S21 is a little bulky and it may fall while swapping your hand but personally we didn't felt like that. One thing that Galaxy S 21 Ultra has better, is its camera bump on the back of mobile having Samsung's contour but still, we will prefer Galaxy Note 20 Ultra.
If you are fond of using an S Pen, the Note 20 Ultra is the first choice. Because there is nowhere to put the S pen on S21 unless you spring for a case that makes it bulkier.
Display Differences:
When we observe the display of both devices, both have similar displays having dynamic AMOLED display that can scale from 10Hz up to 120Hz for the smooth performance of the smartphone. When comes to length, the Samsung Galaxy S20 Ultra is a little larger i.e. 6.9 inch than the Samsung Galaxy S21 ultra's 6.8-inch screen.
Both devices have captivating colorful, Ultra-wide viewing angles and sharp screens. One thing to notice is that S21 has high average brightness of 821 nits but the Note 20 Ultra has only 662 nits and provides the best viewing even in bright light. Whereas, the screen of Note 20 Ultra is more colorful, registering 86.1% of the DCI-P3 color gamut but S21 Ultra has only 81.4%.
When we talk about the display's panel, the S21 Ultra panel provides more accuracy, it achieved a delta E score of 0.24 and the S21 Ultra scores 0 35.
Galaxy S21 Ultra vs Galaxy Note 20 Ultra-Camera:
The most important thing to be noted before buying any smartphone is its camera. Galaxy Note 20 Ultra and Galaxy s21 Ultra both have the super Amazing main camera of 108MP and the second 12MP ultrawide camera.
But if you are looking for the most powerful zoom, the Galaxy S21 Ultra is the best smartphone for you, this device has two telephoto zoom lenses that can achieve 10x optical, up to 3x hybrid zoom, and 100x digital space zoom. But when comes to Galaxy Note 20 Ultra it has only 30x space zoom and 5x optical zoom, additionally, the Galaxy S21 Ultra has a zoom lock feature that helps to capture steadier shots.
When there is low light or darkness, S21 Ultra shows a better result and it also delivers improvements with its portrait mode. In spite of the back camera when we talk about the selfie camera, Galaxy S21 Ultra has a sharper front camera of 40MP and note 20 Ultra has only a 10MP front camera. Overall, the Galaxy S21 Ultra has better performance than the Note 20 Ultra.
The Galaxy S21 Ultra produces brighter and more vibrant photos. When we observed the images of both cameras through night mode, both show a brighter superb image.
Once we capture the image in portrait mode, S21 Ultra shows a better result by dark colors and warmer skin tone than Note 20 ultra which makes S21 Ultra more awesome. For a professional photographer, I think S21 Ultra is the best one due to its sharp result than S20 Ultra which shows a little less sharp image.
Galaxy S21 Ultra vs Galaxy Note 20 Ultra- Benchmark results
When our team observed the software of both devices, we saw that the Samsung Galaxy S21 Ultra packs a Snapdragon 888 processor which is amazing while the Note 20 Ultra has a Snapdragon 865, there is no huge difference between these two devices.
On Geekbench 5, we have measure overall performance. The Galaxy Note 20 Ultra scored about 3294 on the multi-core portion of the test, compared to 3400 for the Galaxy S21 Ultra. In a video editing test, which involves transcoding a 4K video clip to 1080p using the Adobe premiere rush app, note 20 ultra needed 1:16 but the Galaxy S21 Ultra took 1 minute and 2 seconds only to complete the task which is less than note 20 Ultra, it shows the best and fast performance of Galaxy S21 Ultra.
In spite of this, when we observed these both devices for gaming, we concluded that Galaxy S21 Ultra is best for gaming because it scored high on the 3D mark wildlife graphics test. The device notched an average of 33 frames per second while on the other hand Galaxy Note 20 Ultra mustered only 24.9fps.
Galaxy S21 Ultra vs Galaxy Note 20 Ultra-Battery Life:
Before buying a smartphone we all are worried about its battery life, basically, both galaxy S21 Ultra and Note 20 Ultra will get you through a full day on a charge especially when we use the 60Hz display mode on each mobile phone. But we noticed that the Galaxy S21 ultra has long endurance.
When we tested its battery, which consists of continuous web surfing over 5G on 150 nits of the screen brightness. The S21 ultra lasted an amazing 11 hours and 25 minutes in 60Hz screen mode. This is the best battery timing. With the display's adaptive mode, which goes up to 120Hz, the runtime dropped to a still good 10:7.
Both the Galaxy S21 Ultra and Galaxy Note 20 Ultra offer fast charging of 25W. But during unboxing, we saw that the Galaxy S21 Ultra has no charger in the box, and note 20 Ultra has a charger packed with a mobile phone in the box.
Galaxy S21 Ultra vs Galaxy Note 20 Ultra – Other specifications:
The most special thing that Galaxy Note 20 has is its S pen but galaxy S21 Ultra also has S pen input. So, what is the difference? You have to buy the S pen separately with the Galaxy S21 Ultra. The combo case and S pen cost approximately $69.99. But the bad thing is that this case makes the Smartphone bulkier. Besides this, there is no support for Bluetooth for the S pen. It is heard that a separate S pen pro will be coming later.
Frankly speaking, if you are interested in huge storage and want to expand storage, the Galaxy Note 20 Ultra is for you because it has a micro SD card slot. The company got rid of this perk on the Galaxy S21 ultra along with a bundled charger. Besides this, the Samsung Galaxy S21 offers some unique features like zoom lock feature and powerful space zoom.
Additionally, there is a special feature of its camera that is a handy object eraser. Not only this, for video recording it has a special feature called the director's view which allows us to record video by front and back camera at the same time. This makes S21 Ultra more captivating.
Galaxy S21 Ultra vs Galaxy Note 20 Ultra – Verdict:
Personally speaking, if we have to buy one of these two, we'll definitely choose the Galaxy S21 Ultra due to its amazing specifications like long battery life, very bright display, and super Amazing camera. But if you are an S pen lover, the Galaxy Note S20 Ultra is for you. Moreover, you can go for the one that you find pocket-friendly for you. After all, both are from a leading brand that assures the best user experience.
But in general, according to our observations, the Galaxy S21 Ultra is the best one. You can check our latest reviews on both devices in order to get more information and choose the best one which suits your needs.
For more information, visit the website.