Apple is the biggest and most sought-after brand. Thanks to iPhones, which receive the major share. The type of competition in the smartphone market is making things difficult for the company. Apple's achievement with the likes of Samsung S21 Ultra, and Oppo Find X3 Pro, and the latest Mi 11 Ultra is something to brag about. In the fierce sales competition of smartphones, iPhone 12 series really stood out.
Although we were expecting good things from the OnePlus 9 Pro, the Hasselblad camera system did not do any wonders for the OnePlus 9 series.
However, with the iPhone 12 series, Apple is redefining its grip on the smartphone market share. Apple is costly, high-end, and never changes the design early like Android. Moreover, in iPhone vs Android competition, it comes back to iOS. The type of operating system, alongside security features and the eco-system, comes into play repeatedly.
The interesting fact is that Apple achieved record sales of the iPhone 12 series for, first time after 2014. In 2014, Apple 1Phone 6 was the smartphone that redefined many things for Apple. A sleek design, bigger screen, and 4G technology coupled with a major design upgrade from iPhone 5 series were some factors, which made huge sales possible.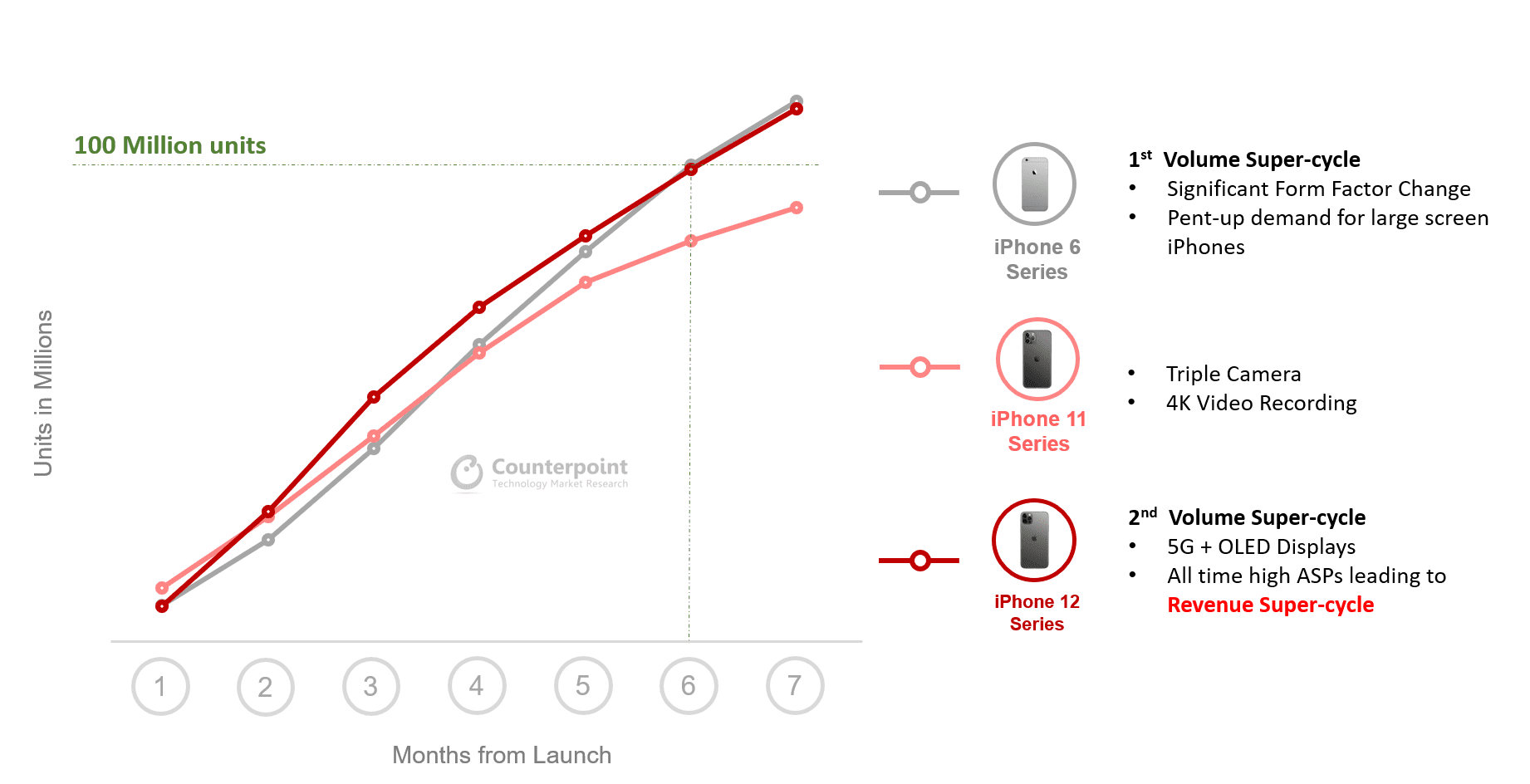 In iPhone 12 series sales, there was no change from iPhone 11 series. major changes were up-gradation to camera sensors, a new and fast ship. 5G technology and inclusion of few gimmicks.
And yet, it worked for Apple. And it worked due to iPhone 12 Pro Max. Currently, the Max size holds 29% of sales of the iPhone 12 series. With iPhone 12 Mini, nowhere in sight. That is the reason that Apple has stopped manufacturing the iPhone 12 Mini series. Earlier there were rumors that Apple won't be launching a mini version in iPhone 13 series. But later on, these rumors were proved false, with renderings surfaced, showing iPhone 13 Mini.
Will Apple be able to keep the iPhone 12 sales supremacy with the launch of the iPhone 13 series. We have so far heard about 120Hz Display, some up-gradation to camera sensors with massive size sensors and lenses, and a bigger battery. And the inclusion of 1TB storage in iPhone 13 Pro Max. Although, there is no major design change. The notch is shrunk in iPhone 13 series, which seems only major design change that is not so major.
And iPhone 13 series is going to battle against Samsung Galaxy S22 Ultra. which will have some interesting changes than the previous series. The massive camera, a major design change, and many insights have been covered earlier by the Techarea24 team.
Another contender in the offering is Google Pixel 6 Pro. It has a major design change. a major camera tweaks and processor up-gradation. This time Google might use its own Whitechapel silicon.
Things are getting interesting as we move closer to epic duels of smartphones supremacy.