Digital Chat Station shared battery capacity and drainage test of iPhone 13 line-up, on his official Weibo and Twitter accounts. Apple promised to include a better performance battery in iPhone 13 than iPhone 12. However, the iPhone 13 battery test results shared by the Digital Chat station suggest something good but not promising.
Previously Apple claimed better battery life of the iPhone 12 despite the smaller capacity unit than iPhone 11. But iPhone 12 does not prove to be the best phone. Almost all iPhone 12 variants batteries lasted for less than 10 hours except iPhone 12 Pro Max. That packs a 3,687 mAh battery and it endured about 10 hours 53 minutes while testing.
Assumptions Regarding iPhone 13 Battery Life
After iPhone 12, we were assuming iPhone 13 to be able to close the battery life gap with other best battery life phones.
As per the leaks and mock-up set it was rumored that iPhone 13 battery will be more powerful. Since we were expecting it to be bulkier than past versions. It was also suggested that iPhone 13 will be slightly heavier than iPhone 12.
Apple seems to be upgrading the iPhone's battery life with the iPhone 13. And using better design changes, bigger batteries, and efficiency improvements.
Leaks suggest better mAH capacity of iPhone 13 Models then iPhone 12
He Furthur explained:
Unfortunately, it seems that it is not the case. According to the iPhone 13 Battery test results: The A2653 model rated capacity of 4352mAh, the A2656 model rated 3095 mAh capacity. And the A2660 model rated a capacity of 2406mAh. The battery capacity points towards iPhone 13 mini, a standard 13 and 13 Pro models. Although promising, but not extraordinary. Since the high drainage in tests confirms the high refresh rate of 120 Hz in iPhone 13. Which is almost confirmed. Although the LTPO panel would help in saving some battery life. But the high refresh rate would most likely balance that. SO in a nut-shell, iPhone 13 might have the same battery timings as of iPhone 12 series.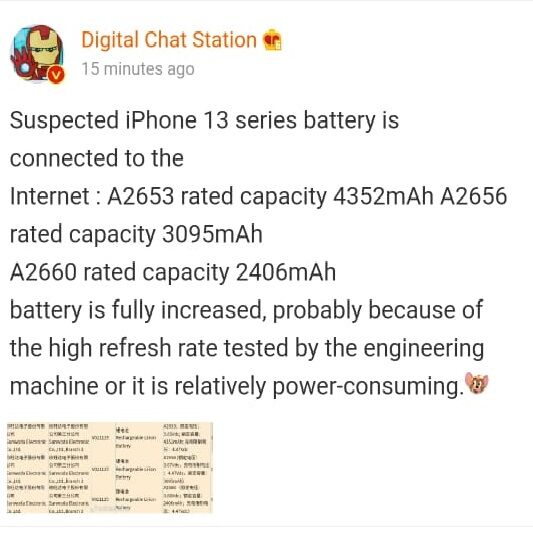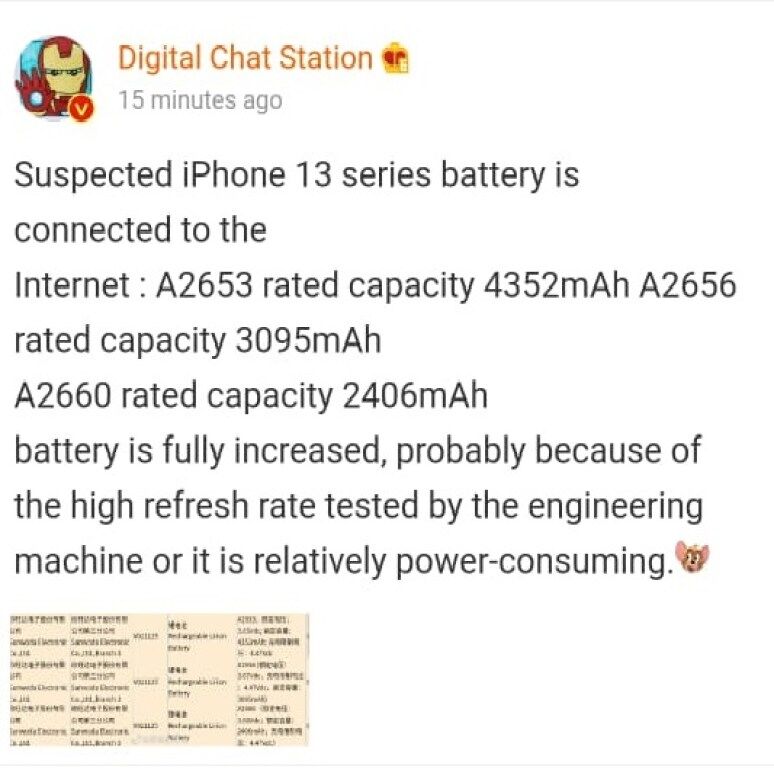 Source: Digital Chat Station (in Chinese)