Recently we had Apple's expected and most anticipated September 2021 launch event. And in this launch event, they announced the new iPhone 13 series, iPad mini, Apple Watch 7, and a couple of other small things as well.
It's not an issue if you have missed the live launch event of iPhone 13. We are here to tell you all. So, you won't be wasting an hour watching an event Where they had tons of drone shots and amazing transitions and the cinematography guiding all through the roof but very few upgrades in detail.
No doubt It's incredible to watch but then it's all to announce a couple of small updates to products almost similar to last year. Now let's move on to it. While you have to read till the end to know about the iPhone 13 series, the star of this launch event.
Apple event – iPad launch
At the Apple launch event, they started with the iPad. So we got a new refresh baseline iPad. Honestly, it's the best deal in the entire tablet world, in my opinion. It is basically the same on the outside. As it is the same 10.2-inch in size, the same design and cost $329 too.
However, inside of this recently launched iPad, you got a new A13 Bionic chip. And there is also a 12-megapixel ultra-wide selfie with centerstage just like the iPad Pro. So even more than the iPad mini this is the number one. Though it's still the most popular iPad and yet pretty minor update. Again with it you get iPad iOS 15, 64 gigs of base storage and like a pretty tried and true design, it's fine.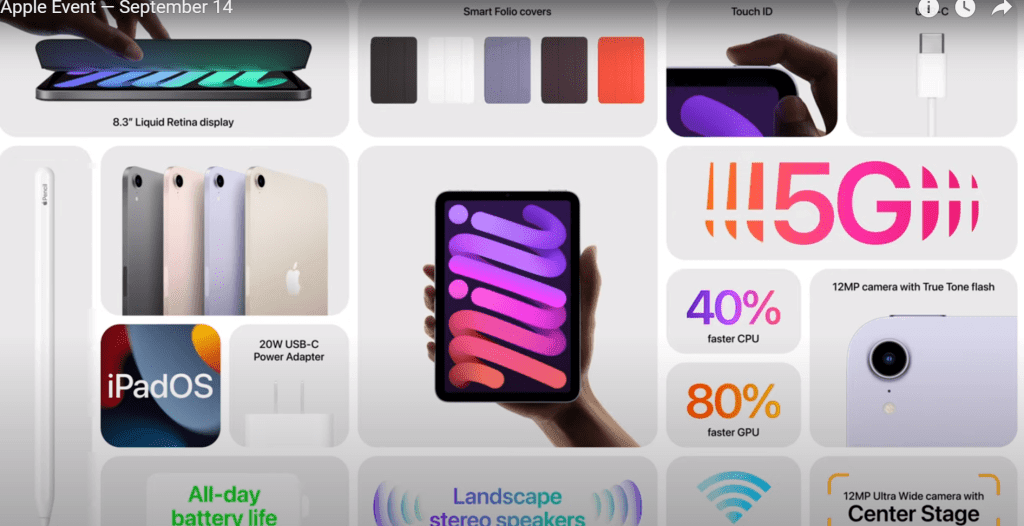 They also launched a new iPad mini. It's been a while since they refresh this but this would be the biggest redesign with the biggest refresh of the day. Because this was the redesign outside and inside. This iPad is a full metal jacket in four new colors and some nice curves at the corners. Moreover, a new 12-megapixel camera along with new ultra-wide at the front with the center stage as well. Furthermore, it's got an A15 bionic inside also new 5G support in the mini.
The star of the show is definitely the new 8.3-inch display with thin bezels that fit in the palm of your hand. In addition, a USB-C is in this one as well. So, now all of Apple's iPad have different shape chips and they all now have USB C except for the baseline iPad which has lightning. iPad air needs another update because now the iPad mini officially has a better nuclear check than that iPad air 60 hertz.
Apple Event – Watch series 7 launch
Thirdly we got an Apple watch. It's an Apple watch series 7. A must-read is our detailed comparison between the Apple Watch Series 5 vs Apple Watch 6.
However, this is mostly just a bigger screen update happening here. Basically, all the borders are now 40% thinner than the series 6. Furthermore, the screen now does curve with a flow over the edges too. And they really highlighted and made a big deal about it.
However, there is a lot of other stuff about the watch that's either the same or was not talked about. It looks like the same sensor may be the same chip, bit larger same buttons, and the same digital crown. I like the way the bigger screen looks.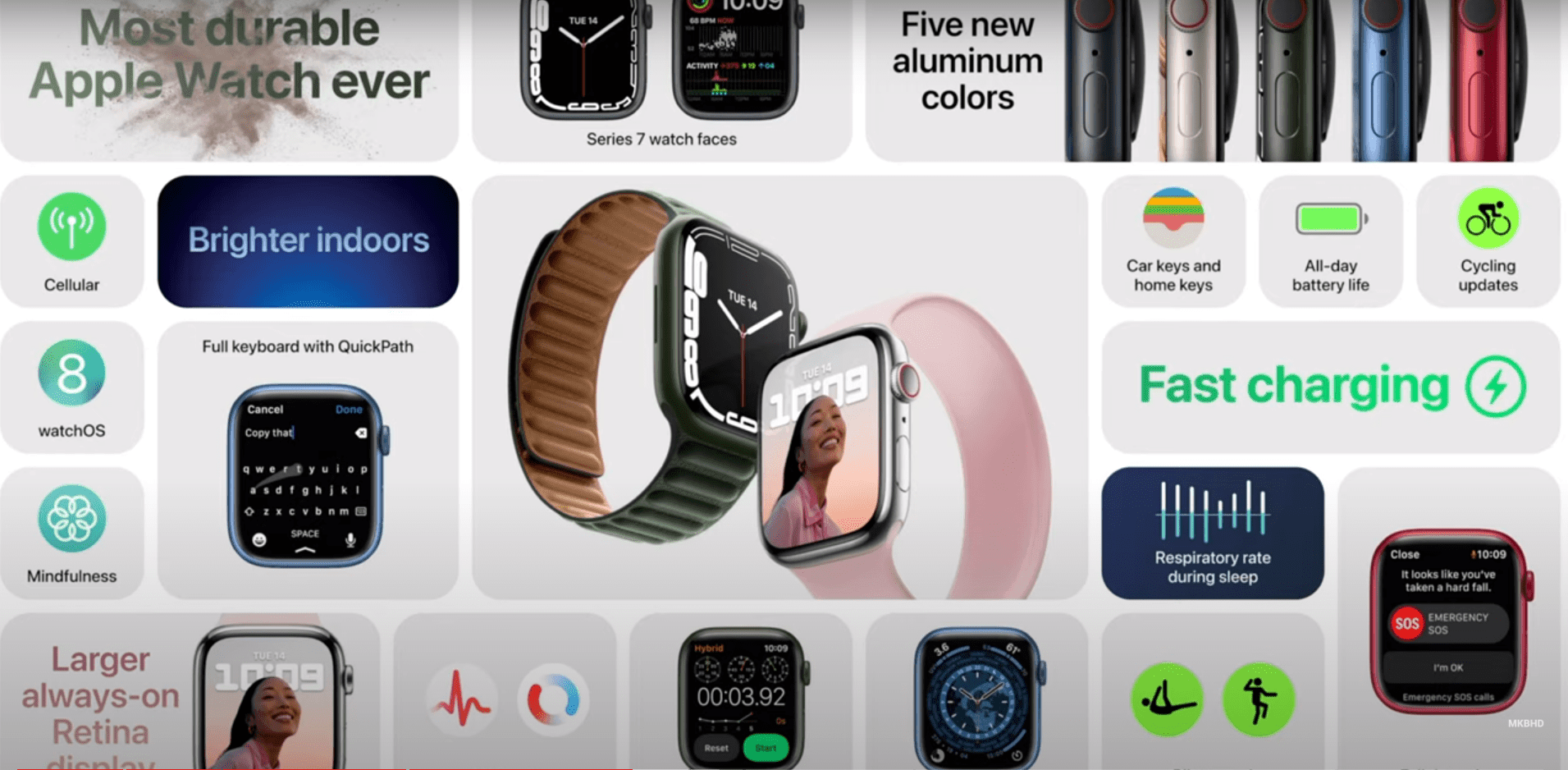 Moreover, the new Watch 7 has harder ceramic and hard glass on the outside. While you can also fit more on the screen. Apple Watch is a pretty minor update. It has the same shape just slightly bumped on that screen. it also charged 33% faster with the included USB C charger. Moreover, it has a large display and it's a bit brighter so it should be more visible.
In addition, they also added shared workouts In fitness plus so basically if you are on FaceTime and you have share play they added fitness + workouts to share play so you can work out with someone across the country with an apple fitness class workout.
Apple event – Iphone 13 series launch updates
Finally let's get to the iPhone 13, 13 mini, iPhone 13 Pro, and iPhone 13 Pro Max. iPhone 13 series looks a lot like iPhone 12 series but with two main updates, the display and the cameras.
The biggest design change is a smaller notch, which we told you much earlier about.
All the phones of the 13 series launched with A15 bionic chips. Furthermore, there are 5 core GPUs in the Pro phones and 4 cores in the regular iPhone 13. There is also a slight battery bump. As it has bigger batteries. Whereas the new iPhones are actually a tiny bit thicker and a little heavier than last year to accommodate. It comes with a ceramic shield same ip68, flat side material as last year.
Most of the predictions that we made regarding the iPhone 13 are true.
iPhone 13 and 13 Mini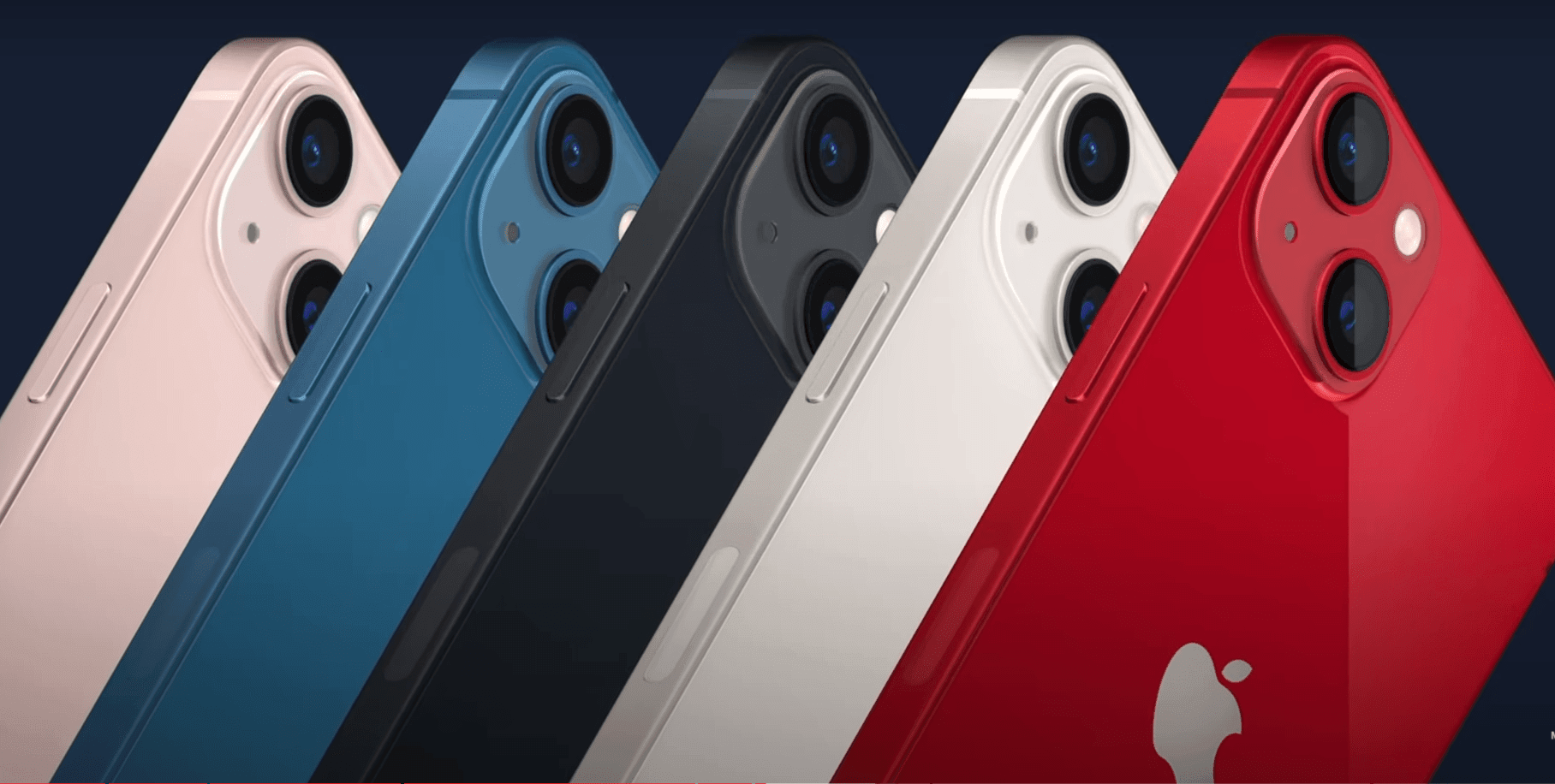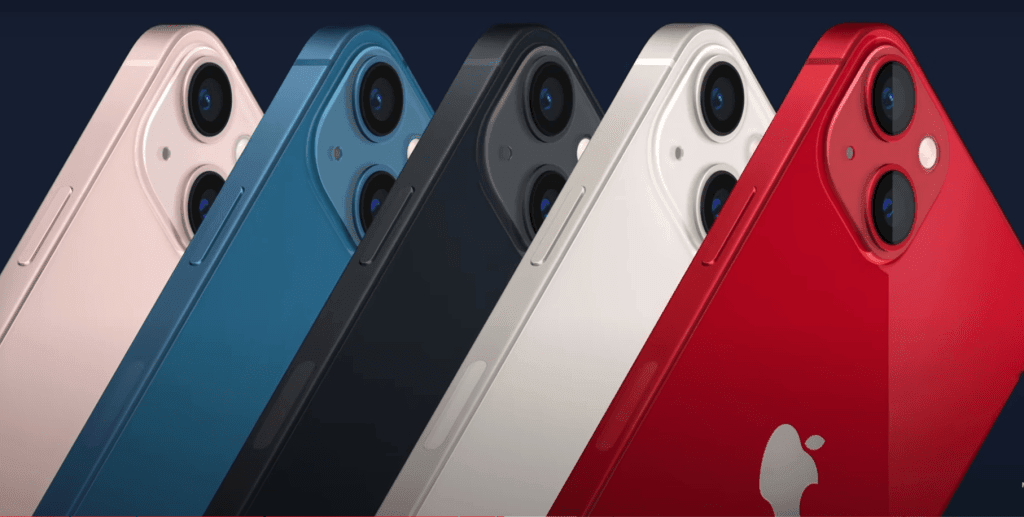 The baseline iPhone 13 and 13 mini both look similar to iPhone 12 and 12 Mini with minor updates. However they have announced all specs as if everything is upgraded to a great level. We earlier told you about the iPhone 13 series changes in camera diagonal placement
The iPhone 13 and 13 Mini both have a display that has rounded corners and the same curve design as iPhone 12. Moreover, the screen is 6.06 inches and 5.42 inches respectively. Additionally, these displays are brighter with XDR and 800 nits to HDR 1000 nits of brightness. Which is an actual upgrade. It's an OLED display with a 20% smaller notch.
You might be thinking how is the battery life gonna be.
We told you earlier about the upgrades being made in iPhone 13 series batteries. And we were spot on.
So, Apple is actually expecting a slightly better battery life. Which they mentioned as 1.5 hours more than its predecessor.
Moreover, it gets the same selfie camera and Face ID. You can see there are slightly new layouts with those dual cameras diagonal from each other. Moreover, camera bumps are definitely a bit larger, especially with those Pro phones. The 13 and 13 Mini have new dual cameras both still 12 megapixels and larger sensors with sensor-shift and better optical image stabilization on the main sensor. In terms of image stabilization, so far Vivo X60 Pro plus is leading the market with its gimbal technology.
Apple announced a bigger sensor with better stabilization to give you much better low-light images. The phones even have a shallower natural depth of field and even better light gathering ability.
In addition, a telephoto lens is 3 X this year up from 2.5 X. Moreover, both of these cameras have night mode too. While new ultra-wide can shoot micro photos too.
In terms of camera performance, iPhone 12 Pro Max lost the battle against the S21 Ultra camera. Let's see how iPhone 13 Pro Max holds up against the much anticipated Samsung Galaxy S22 Ultra.
iPhone 13 pro and Pro max launch
Apple proudly announced the iPhone 13 Pro and Pro max in their launch event. Moreover, they have claimed it to be the best of all smartphones.
It seems like almost all the rumors surrounding the iPhone 13 Pro and Pro Max was true.
Both the Pro phones launched have a brighter screen for better visibility with HDR. They are featured with 1200 nits of brightness, 20% smaller notch, and 2.5 hours more battery life.
However, they have the same face ID hardware up there and the same selfie camera as 12 Pros. They finally added 120 Hz of refresh rate with OLED and Pro-motion display which is great.
The iPhone 13 Pro and Pro Max both come with ip68 water resistance. In addition, the maximum 1 TB storage variant is exciting to know. There is a new "Sierra Blue color option for the "Pro" models too. And both Pro variants still have stainless steel bands, just like before.
Moreover, camera bumps are definitely a bit larger in these Pro phones. The 13 Pro and 13 Pro Max appeared to have matching cameras.
These are Pro 12MP camera systems consist of Telephoto, Wide, and Ultra Wide cameras. Moreover, night mode and portrait mode both can be enabled with LiDAR scanners. The Camera system also has Sensor-shift and Dual image optical image stabilization for amazing photography.
For those of you who want to own an iPhone but are low on budget, now is a good time to see the following deals.
New video Specification
They have also added 2 new video features and those are cinematic mode and PRO-RES video in iPhone 13 series. The cinematic mode has a bunch of focus-fix tools to help video shooters.
Moreover, it gives better control focus and now, this is something new to play with on the iPhone cameras. There is smooth focus tracking and AI-based depth detection. In addition focus racks between subjects in a way that smoothly moves. This sounds really cool in theory but let's just wait until we try it.
Price Update of Apple iphone 13
The Apple launch event was concluded with a price update of the iPhone 13 series. They have set $699 for the iPhone 13 mini $899 for iPhone 13, 999 for the 13 Pro, and 1099 for 13 Pro Max. Since I know you would love to know the price of the 1TB pro max variant. So it's 1599 for the fully maxed out one TB iPhone 13 Pro Max.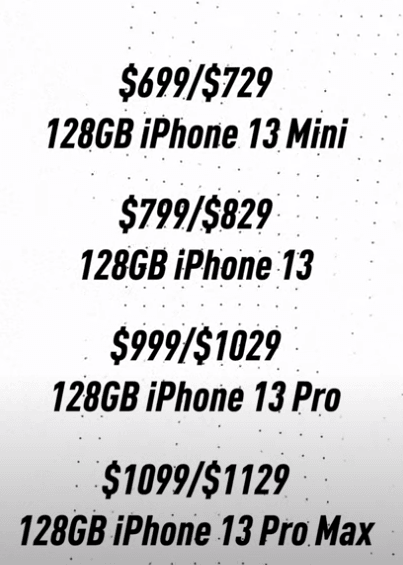 well, this was all about the announcements apple done on the recent launch event. And as I said that these are nothing but hyped-up minor updates. Moreover, In my opinion, no one should run out and get an iPhone 13 if you already have an iPhone 12. Though this 120 Hz on the profile sounds pretty amazing. But still, it's so similar to 12. We will surely review these newly launched iPhone 13 iPad mini and Apple Watch 7 for you so stay connected.