Apple upgraded its iconic Apple Watch range in September 2020, launching the revolutionary Apple Watch 6. The Watch 6 replaced the company's then-latest wearable; the Apple Watch 5, introduced in 2019. This Apple Watch 6 vs Apple Watch 5 comparison gives you everything you need to understand how both of Apple's best smartwatches differ and which one is worth your buck.
The Apple Watch 5 was a fantastic wearable when it initially came out, along with an always-on screen display, monitoring devices, and an integrated compass. On the other hand, the Apple Watch 6 provides all the features of its predecessor and so much more! Additional features include SpO2 tracking, a brighter display, and an upgraded S6 processor for improved performance.
The Watch 6 comes with a U1 ultra-wideband chip, blood oxygen monitoring, and a new S6 processor, starting from PKR 65,000 ($399) only! Although, sadly the UWB doesn't work in Pakistan and we covered the story while reviewing the Apple AirTags.
Apple Watch 6 vs Apple Watch 5 Specs Comparison
Apple Watch 6

Apple Watch 5
Apple Watch sizes
40mm and 44mm
40mm and 44mm
Dimensions
1.57″ x 1.34″ x 0.41″ (40mm)
1.73″ x 1.5″ x 0.41 in (44mm)
1.57″ x 1.34″ x 0.42″ (40mm)
1.73″ x 1.5″ x 0.42″ (44mm)
Variants
GPS
GPS + Cellular
GPS
GPS + Cellular
Weight
1.09 oz/30.5g (40mm)
1.31 oz/36.5g (44mm)
1.41 oz/39.8 g (40mm)
1.69 oz/47.8g (44mm)
Screen size
1.57″ (40mm)
1.78″ (44mm)
1.57″ (40mm)
1.78″ (44mm)
Display
Always-On OLED Retina display
Always-On OLED Retina display
Processor
S6 64-bit dual-core processor
S5 64-bit dual-core processor
Materials
Aluminum, stainless steel, or titanium
Aluminum, stainless steel, ceramic, or titanium
U1 Ultra Wideband support
Yes
No
Wi-Fi
802.11b/g/n 2.4GHz and 5GHz
802.11 b/g/n
Other connectivity
Bluetooth 5.0
Bluetooth 5.0
Battery
Up to 18 hours on a single charge.
Up to 18 hours on a single charge.
Sensors
Accelerometer, barometer, gyro, always-on altimeter, heart rate sensor, compass, blood-oxygen oximeter (SpO2, VO2max)
Accelerometer, altimeter, gyro, heart rate sensor, compass, barometer
Features
50m water resistant, ECG certified
50m water resistant, ECG certified
Capacity
32GB
32GB
Colors
Aluminum: silver, space gray, gold, blue, and red.
Titanium: natural titanium and space black.
Stainless Steel: silver, graphite, and gold.
Aluminum: silver, space gray, gold
Titanium: natural titanium and space black
Stainless Steel: stainless steel, space black, gold
Ceramic: white
Price
Starting at $399 (40mm, Wi-Fi only)
Starting at $399 (40mm, Wi-Fi only)
Price
The price of the Apple Watch 5 in Pakistan varies from 64 thousand to 70 thousand whereas Watch 6 is available from 70 thousand to 78 thousand depending upon variation and colors.
Apple Watch 6 vs Apple Watch 5 Comparison
The preponderance of features is shared despite having only been featured in Apple Watches for a year. The two versions have the following features in common, according to Apple:
The Similarities:
Case: 40mm or 44mm
Retina LTPO OLED display with 1000 nits of luminance that is always on.
Cellular models+ GPS
W3 wireless chip; dual-core 64-bit CPU
Digital Crown with haptic feedback.
Second-generation electrical heart sensor and optical heart sensor
Alerts of high or low heart rates, erratic heart rhythm alerts, and an ECG app
Fall detection, Global emergency phoning, and Emergency SOS
Noise Monitoring
Waterproof to 50 meters; "swim-proof."
Wi-Fi, Bluetooth 5.0, LTE and UMTS
GPS/GNSS, altimeter, and compass
Speaker is 50 percent louder, and there's a built-in microphone.
32 GB of storage
Battery capacity of 18 hours
According to Apple's analysis, the two versions share the vast majority of functionality. Even yet, there are a few fundamental changes between the Watch 6 vs 5, like the blood oxygen monitoring and always-on altimeter, which are worth mentioning!
The Differences:
Apple Watch 5
Always-on Display
S5 SiP with a dual-core 64-bit processor
Wi-Fi 2.4GHz
Barometric altimeter (measures the amount of water in the atmosphere)
Apple Watch 6
The always-on display is up to five times brighter
S6 SiP with dual-core 64-bit CPU
U1 Chip (ultra-wideband)
Wi-Fi frequencies of 2.4GHz and 5GHz
Sensor for measuring blood oxygen levels
Always-on altimeter
For specific swim-proof, battery life has been improved, and charging times have been sped up.
Apple Watch 6 vs Apple Watch 5 — Displays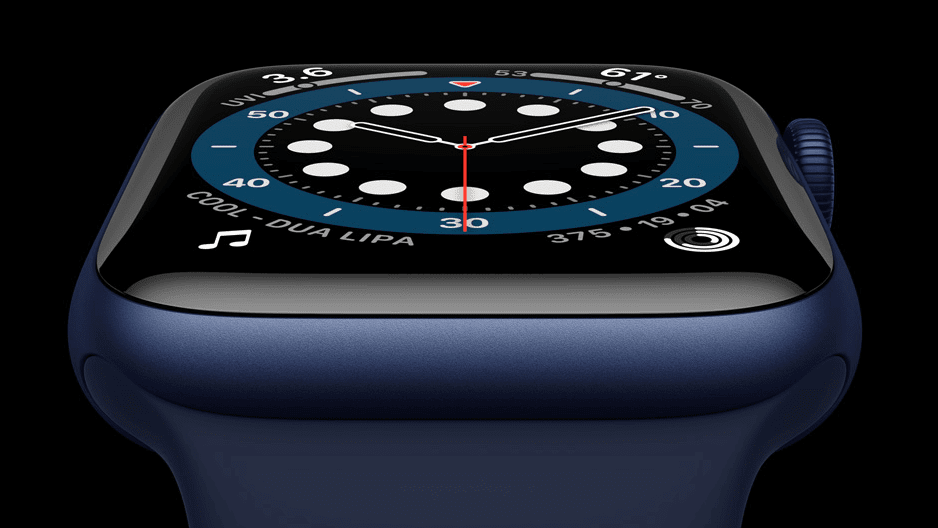 The Retina LTPO OLED display is included on both the Watch 5 and Watch 6. The main change is that the Watch 6 features an always-on display which is 1.5 times brighter than the Watch 5 while your arm is down.
While both displays have a maximum brightness of 1,000 nits, the Watch 6's always-on display will appear brighter outside as well as during day-to-day usage at a peek.
Aside from this variation, the two models' high-resolution Retina displays are similar. Unless you have a pressing need to view the watch face in the most refined possible light at all times without having to raise your arm, the Watch 5's display will suffice!
Just In: Samsung Galaxy Watch 4 vs Watch 4 Classic Review
S5 vs S6 Processor
Both watches have dual-core 64-bit CPUs. The upgraded S6 CPUs are up to 20% faster than the earlier S5 processors and are built upon A13 Bionic found in the iPhone 11. Apple claims that this enables applications to start 20% faster while retaining the same "all-day" battery life of 18 hours.
Apple's S5 dual-core processor in the Watch 5 "continues to provide speedy performance." The S5 is two times faster than the Apple Watch 3 in terms of processing speed.
When it debuted in the Watch 5, the S5 had become a powerful processor, and the S6 merely provides a more tuned chip. Unless you need the fastest possible app launch rates, the modest performance gains of the S6 processor do not appear to be enough to warrant purchasing the Apple Watch 6 over the Watch 5. The Watch 5's S5 processor would be more than enough for the overwhelming majority of customers.
U1 Ultra-Wideband Chip
The Apple Watch 6 is the only model that has the U1 ultra-wideband processor. Apple claims that the U1 chip in the Apple Watch will allow for a quick wireless location to implement new, advanced digital vehicle keys. You can calculate the length of a radio wave between 2 devices to enable ultra-wideband with more precision than Wi-Fi and Bluetooth LE.
Although Apple has begun to incorporate the chip into new devices, it's yet to unlock significant new capabilities. While the sole use of the technology has enabled the directional AirDrop functionality in iOS 13, Apple has implied several other possible future services. This indicates that you may also enhance the functionality of the U1 on the Apple Watch 6.
Due to the limited use cases for the U1 chip, it is not worth purchasing the Apple Watch 6 just for it. Nonetheless, if you want to keep your Apple Watch for several years, the U1 chip will almost certainly make it a lot more future-proof device, given the likelihood that more features will be added in the following years. And one recent feature is that it can update the location of Apple AirTags. Must see our comparison of Apple AirTags vs Tiles to see which locating device suits your needs.
Health Monitoring
The new health monitoring function featured on the Apple Watch 6 is the first of its kind on the Apple Watch. To fully understand their general fitness and overall well-being, the process looks at the oxygen content of the user's blood. The proportion of oxygen transported by red blood cells, known as oxygen saturation (SpO2), shows how effectively oxygenated blood is distributed throughout the body. This feature comes in very handy during the ongoing Pandemic where oxygen saturation needs to be monitored, especially if you are affected. Earlier there were myths regarding the Covid and 5G technology but these were busted long ago.
There is a blood oxygen sensor on the back of the Apple Watch 6 with four clusters of red, green, and infrared LEDs. They use a customized algorithm to detect light reflected off of blood and use that data to estimate whether or not the person's blood oxygen level is between 80 and 100 percent.
You can get on-demand measurements using the Blood Oxygen app, and you can also collect periodic background measurements, such as during sleep. All information about a person's blood oxygen level is easily accessible throughout the Health app, and the user can also monitor how the level has changed over time.
Although the Apple Watch 5 shares an extensive range of health monitoring functions with the Apple Watch 6, there are significant differences between the two models. Both of these devices include an electrical cardiac sensor for taking ECGs.
Additionally, both models are equipped with an optical heart sensor that monitors heart rate and can display alerts if your heart rate becomes too high or too low and alert you if your heart rhythm is abnormal. The results of their experiments include the capability to conduct emergency fall detection and SOS.
While the most significant new feature of the Apple Watch 6 is its built-in blood oxygen monitoring, the new model's primary health-focused attraction is the inclusion of this feature. If you think that having the latest blood oxygen monitoring technology will be essential to you, then the Apple Watch 6 is an excellent choice! For consumers, the Apple Watch 5 is still packed with health monitoring features, such as an ECG.
The primary rival of watch 6 is Samsung's Galaxy watch Active 2 and 3 which can detect blood pressure and ECG monitoring.
Apple Watch 6 vs Apple Watch 5 — Battery
According to Apple, both the Apple Watch 5 and Apple Watch 6 have an "all-day" battery capacity of approximately 18 hours.
However, the Apple Watch Series 6 provides faster charging, a 100% charge in under one hour, and better battery life for monitoring specific activities, including outdoor and indoor runs. In contrast, the Apple Watch 5 takes less than two hours to charge.
Since the battery performance of both models is almost identical, it is unlikely that it is worth preferring Apple Watch 6 only based on faster charging and somewhat better battery use during certain activities. The Apple Watch 6's battery and charging upgrades, on the other hand, clearly demonstrate how the device provides a range of minor adjustments over the Apple Watch 5.
Design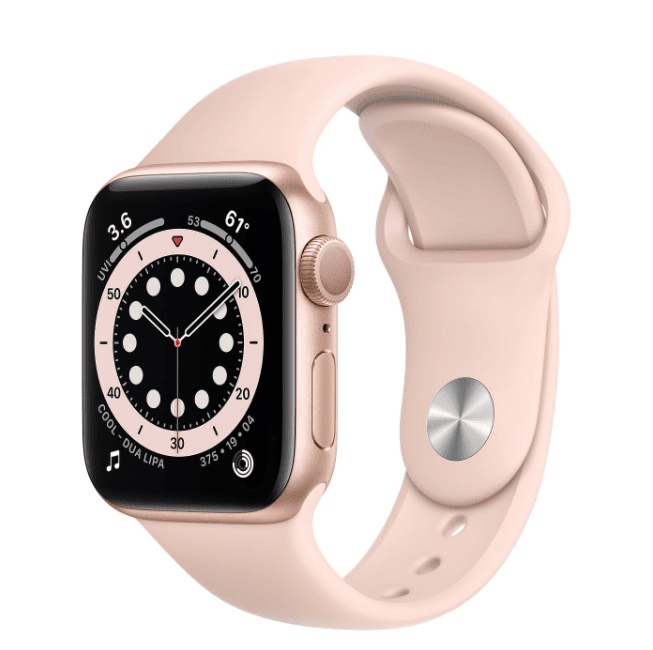 The Apple Watch 5 and Apple Watch Series 6 have the same design but vary significantly in materials and color choices.
The Apple Watch 6 comes in aluminum, stainless steel, and titanium, whereas the Apple Watch 5 comes in ceramic. Apple Watches made of titanium, stainless steel, or ceramic have sapphire crystal screens, while those made of aluminum use Ion-X stronger glass.
The aluminum Apple Watch 6 is featured in Space Gray, Silver, Blue, Gold, and (PRODUCT)RED. It is available in stainless steel in Graphite, Silver, Gold, and titanium in Space Black or Titanium. The Apple Watch 5 does not come in Blue or (PRODUCT)RED, but it does come in a one-of-a-kind ceramic white shade.
If you desire Blue or (PRODUCT)RED, the Apple Watch 6 is the only model with these color choices. If, on the other hand, you're alright with the different color choices or want the white ceramic finishing, the Apple Watch 5 will do!
Final Thoughts
The Apple Watch 6 is a slight upgrade over the preceding Apple Watch 5 model, with additional capabilities like blood oxygen tracking, the S6, and U1 processors, as well as an always-on altimeter. The Apple Watch 6 will be the model of choice for people who want the best out of their wearable, thanks to its enhanced always-on display, sophisticated health monitoring capabilities, and variety of colors and finishes. If you're particularly concerned about health monitoring or just want to try out a different color, the Apple Watch 6 is the device for you!
Alternatively, if you're on a tight budget and aren't especially interested in the Apple Watch 6's extra capabilities, the Apple Watch 5 is still a viable choice. It has many of the same features as the current model, like the ability to generate ECGs. However, keep in mind that the Apple Watch 5 is now more than a year old and will most likely not receive software upgrades for as long as the Apple Watch 6. Another thing you can do is wait for a few months for the release of the Apple Watch 7, which is expected to have a redefined design and a rumored flat-edge frame similar to the iPhone 12 lineup.