Are you excited Apple fans? So we are here with Apple Airpods Max review having an insane price tag and even more insane Smart Case. Yeah it's pricier and it does give superb audio quality and the form factor; but is it really worth it. The Apple AirPods Max is a fantastic headphone with noise cancellation and other superb features.
It provides exhilarating and balanced sound and their spatial audio is the real stuff. A steal-housed base, but despite this, it has an amazing design and feels easy to use. As Apple AirPods Max's Price is really high, hence it is not pocket-friendly. Moreover, the smart case doesn't provide any protection.
The main thing that I disliked is that there is no on/off button. However, Airpods Max Audio Performance is next level, though at a higher, rather very higher price tag.
Read: Apple iPhone 12 Pro Max Review – The mightiest of all iPhones!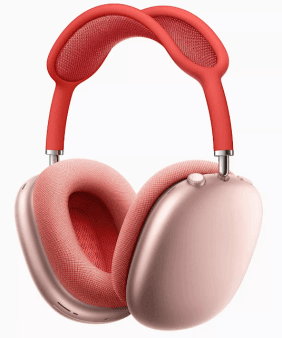 Apple AirPods Max Specifications and Review
Before diving deep into AirPods Max Review let's walk through its specifications in detail:
| | |
| --- | --- |
| Price | $549 |
| Battery life | 20 hours |
| Colors | Pink, silver, space gray, green, sky blue |
| Weight | 13.6 ounces |
| Size | 7.4 × 6.6 × 3.3 inches |
| Speakers | 40mm dynamic drivers |
| | |
| --- | --- |
| Other features | ANC, spatial audio, Siri, audio sharing |
| Sensors | Optical sensor, position sensor, case detect sensor, accelerometer, gyroscope |
| Chip | Apple H1 headphone chip (each ear cup) |
| Connectivity | Bluetooth 5.0 |
| Total microphones | 9 |
| Controls | Digital crown, Noise control button, |
Apple Airpods Max Price in Pakistan:
Apple AirPods Max's Price in different countries:
Price in Pakistan: Rs. 87,980
Price in USD: $549
Price in India: Rs. 59,900
Price in Bangladesh: 65000 BDT
If you are someone, who is looking for a cheaper alternative with a form factor and Apple signature quality then read our review Beats Studio Buds.
Apple AirPods Max Colors:
It is available in five elegant colors including green, silver, pink, sky blue, and space gray.
Apple AirPods Max Design:
Apple AirPods Max's review would never be complete without talking about the vibrant colors it is available in. The amazing colors of Apple AirPods make them more eye-catching. The pivoting ear cups are covered by oval pillows of memory foam. These are very smooth and spongy. They make the users more comfortable than their competitors. And create a secure seal around the ears of the user.
The special thing is that they are connected by a stainless steel frame whose size is about 7.4 × 6.6 × 3.3 inches. The weight of the AirPods is 13.6 ounces. The breathable canopy exerts pressure. It makes the device lighter than its perceived weight. Moreover, when we observed its weight in comparison to its other competitors like Bose 700 and Sony WH-1000 XM4 headphones, then they are lighter than AirPods max, at just 8.96 ounces.
Read: New iPhone 13 Leaks – 1 TB Storage and LIDAR feature
The best thing I noticed is the Apple watch's Digital Crown. However, its function is not to provide navigation. Here this crown is used to control volume, playing or pausing audio, and skipping tracks. Not only this, but it also functions for ending or answering calls and for summoning Siri. Besides this, in Apple AirPods Max there is a noise cancellation button on the right earcup.
This is also used for transparency mode. However, the thing that disappointed us is that there is no power button. But the good thing is that the device automatically kicks into low power mode when we are not using them or they are covered in the magnetic Smart Case. Overall the design and feel of the headphones is very captivating and I just loved it.
Apple AirPods Max Smart case: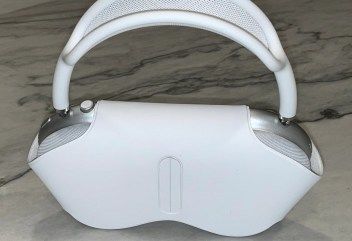 After talking about colors here is a brief Apple AirPods Max Smart Case review. People are making jokes about Apple AirPods Max Smart Case because they think that if they are coming with such a high price then the case should have been better than this one. But to be honest I liked it. Moreover, It looks like a ladies' leather bag. The headband of the Apple AirPods Max is used as a carrying handle. Shortly, it seems like Smart Case doesn't provide any kind of protection.
The thing is that why is it called the Apple Airpods Max smart case. What's so smart about it. Only thing is that it has the battery saver feature. The Airpods battery saver feature gets activated once inside the smart case. However, it offers no protection to the casing and it can easily get scratches on the go or inside the bag.
Airpods Max Smart case just adds bizarreness of real essence of a case which is to protect the Airpods itself. It offers protection to cups only and not the complete device. We will talk in detail about it in a while.
Must Read: iPhone 13 Leaks and Rumors – Camera, Specs, Price, and more
Airpods Max Audio Performance:
There is a 40mm dynamic driver in each cup. It is designed in such a way that it delivers clean high frequency, accurate mid-range sound, and deep bass. And the sound starts with a custom-built. The special feature is a dual neodymium ring magnet motor. Its function is to limit the harmonic distortion to less than 1% at the maximum level. Overall there is a balanced sound.
While moving through Apple AirPods Max Audio performance review I can't wait to tell you about another amazing thing that is the H1 chip in each ear and each chip has 10 audio cores. These audio cores can perform 9 billion operations per second. But according to my opinion, Apple AirPods Max should not be the choice of professional musicians because it is wireless.
Read : Apple's iPhone 11 Pro Max – Still a Competitor to iPhone 12 Pro max
And always a wired device is more appropriate than a wireless one. Besides this, its major feature is spatial audio. This supports 5.1, 7.1 Dolby atmos video content add to make the sound relative to the picture on the screen.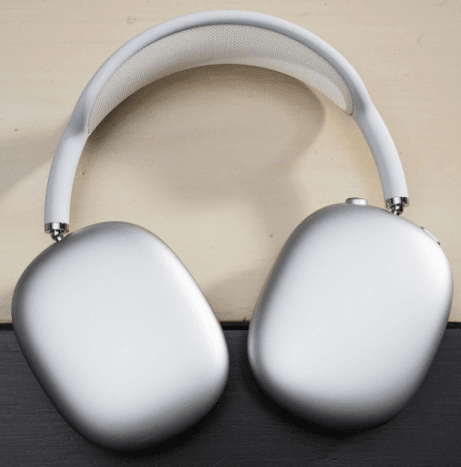 AirPods Max setup, Siri, and Phone call quality:
All the Apple users will feel easy using Apple AirPods Max. When we pull the headphones out of the smart case, the H1 chip instantaneously paired up with our iPhone or iPad. And soon we could control Apple AirPods Max from our Apple watch. It's a unique and out-of-world experience to listen to the amazing Audio Quality and performance of Airpods Max.
It can also be controlled by handoff playback between Homepod mini or iPad. Not only this we can also get Siri to do things for us. Generally, it is not preferred, nonetheless, helpful for answering calls and sending texts. We can also use Apple's AI assistant. Its function is to control the Homekit devices through the Apple AirPods Max.
When we talk about the phone calls quality, I observed that Apple AirPods Max is better than other models of AirPods. It can eliminate most background noises. We can hear ourselves speaking. One thing more I observed is the Apple AirPods Max can boost the volume of my voice in my ears in transparency mode. Audio quality is crisp during calls and other people don't complain about your voice quality either.
AirPods Max Noise cancellation and transparency mode:
There is an excellent level of noise cancellation making audio performance and quality soothing experience for Airpods Max. If we prefer acute tuning, according to my opinion the boss 700 is the best. Because Apple AirPods Max has 11 levels of noise cancellation. Talking about sound transparency, AirPods Max contains only one level of transparency. But in comparison to this, Sony WH-1000XM4 is offering many settings for this purpose.
Read: iPhone 12 Mini 5G Review – The right fit for you in 2021
I have noticed that many options of the Apple AirPods Max are not much better. But when we see the Apple headphones in its comparison, these have the two best noise-canceling headphones. But the Apple AirPods Max provides more recreation with its best performance. It does a better job than Bose 700 by eliminating the high frequency of wind.
It also eliminates the noise of traffic and daily basis sounds of devices. But if we are interested in customizing our sound, then the Apple AirPods Max is not our kind of headset. In other cases, if we are okay with giving up control to Apple's performance powers then we will definitely choose the Apple AirPods Max.
Airpods Max Review – Battery life:
For a higher price tag we get amazing audio performance and quality of AirPods Max; but what about battery life under full day usage. Apple claims 20 hours of battery life. When I tested this, I came to know that it's not just a claim. Its real battery life is more amazing than this claimed time. I spent 8 to 10 hours listening to traditional music. 4 hours to phone calls, 5 to 6 hours watching videos on Netflix, and many hours of simple silence. AirPods have still 7% battery left.
Then the whole day stored in the smart case, the battery barely drained. Besides this, Apple has planned out a no-power-button also. 20 low-power modes are very effective. With normal use, many people can get several days of battery life of this best Apple Airpods Max. One thing I should mention here is that if you are in search of more battery life than this, you can choose the Sony WH-1000XM4 headphones which provide 10 hours more battery life than the Apple AirPods Max.
And if we do opt for the lightning to 3.5 mm accessory, we have to charge the Apple AirPods Max. This cable can add a wired listening option for professionals. And will provide the benefit of elimination of sound latency. But this could not be used to charge the cans.
Direct competitors:
There are many direct competitors of Apple AirPods Max in the market. Its best competitor is Sony WH-1000XM4. This is low in cost. And these headphones are best known for noise-canceling, Besides this, they have all amazing functions on a low budget. The other competitor of Airpods Max is Bose NC headphones 700.
These headphones have a great audio performance on calls and for watching videos on YouTube or Netflix. These are available at a low price than Apple AirPods Max. Another competitor of AirPods Max is Microsoft surface headphones 2. These are stellar productivity headphones on a low budget. Not only these if you are really interested in noise-canceling effect then another headphone Bose Quiet-comfort 35 II can also be selected.
Read: Redmi K40 Pro Review- Power and Performance of Snapdragon 888
When our team researched other competitors of Apple AirPods Max, we found that Beats studio3 wireless is also good for professionals and other music lovers. And besides these all brands when we came back to Apple, Apple AirPods Pro are also the best product of the apple series. But overall the Apple AirPods Max is the best one.
Go for Apple AirPods Max; Pros
After deep research, we have come to know that the Apple AirPods Max has a crispy and balanced sound. There is an amazing noise cancellation feature in the streets. Not only this they have a very captivating design and wonderful look. Their elegant colors make them more awesome. Another worthy thing to notice is their spatial audio which is the main game-changer. And also they are easy to use and control.
They have an extended battery life of 20 hours. And they paired up very easily as compared to other headphones. They are smart enough to work not only with Apple only but also with android devices.
Airpods Max Cons:
Everything has its bad aspects also, no matter how much it is good. After the keen observation of Airpods Max, we have come to know that this is the best device in its functioning and overall user satisfaction. The only bad thing is that these are very expensive at $549 and the smart case provides no protection.
Just In: Teleporting Smart Glasses Technology claims by Mark Zuckerberg
One thing that I disliked is that it has no on/off switch available. They are heavier than normal headphones because of the steel body, however, it doesn't feel heavy on the head, mainly due to design and breathable cone. One thing more people will notice is that these have no 2.5mm or 3.5mm analog audio input.
Apple Airpods Max Unboxing:
When we unbox it, we get headphones with a carrying smart case. The ear cushions are magnetic. And these are swappable, can be replaced with a pair costing about $69. We also get lightning to USB C cable. Unfortunately, there is no power adapter. And the Apple AirPods Max skip on the lighting to 3.55mm audio cable. If we want the non-Bluetooth listening option, we can buy this for $35.
Final verdict:
So after this comprehensive Apple AirPods Max review and exploring this device deeply we have come to the conclusion, that the device is the best in its class but insanely priced. It has all the exceptional features including Apple AirPods Max noise cancellation. This feature has made it unique out of direct Competitors. The device has a decent design with alluring colors which make it more attractive. They have a user-satisfying soundstage and also compatible even for Android users.
Their spatial audio makes them more versatile. Their crispy and balanced sound is also awesome. But the Apple AirPods Max has a very high price which makes its fan sad. If you are a true Apple fan, then the price doesn't matter, you should buy it. So, waiting for what? Order it now! You can purchase it from Apple at any time. And according to shipping estimates, it could take up to 12 weeks for them to arrive. For more updates visit our website.