So first thing in review of Beats by Dre buds is not hidden from all. Apple owns Beats though acquisition that was made well before Apple started producing its own Airpods.
Since then Beats kept on producing the headphones and related stuff but never came into the limelight. Beats is known for exceptional marketing moves and higher price-tag. Though it's always been classy and also associated with too many loud colors.
What we Love about Beats Studio Buds
Competitive Price of 149USD
The form factor
Active Noise Cancellation
The Red Color
Sweat and Water-resistant
Compatible with Android phones and USB-C charging
What we hate
More base than required
Transparency mode is not much transparent
No H1 chip this no iCloud connected switching
No hands-free Google Assistant
Beats Studio Buds-The Review Begins
The Apple Beats Studio Buds are now available for just $149.99 compared to Apple's regular $159 AirPods (without a wireless charging case). However, they will be available by the end of June. They are not overly priced like Apple Airpods Max. Apple and Beats know too well that Android users are sensitive to prices.
Moreover, the low price move is made with the fact that global true wireless earbuds demand has increased exponentially due to Pandemic.
The Beats Studio Buds are pretty impressive with immersive sound, active noise cancelation, transparency mode (which is not so good), and 8 hours of long battery life. The most interesting feature is that you can pair them with iPhone or Android. We can call them a stylish and comfortable alternative to other available buds. Even we believe that they can beat Apple Airpods Pro as they are about 100$ cheaper than that.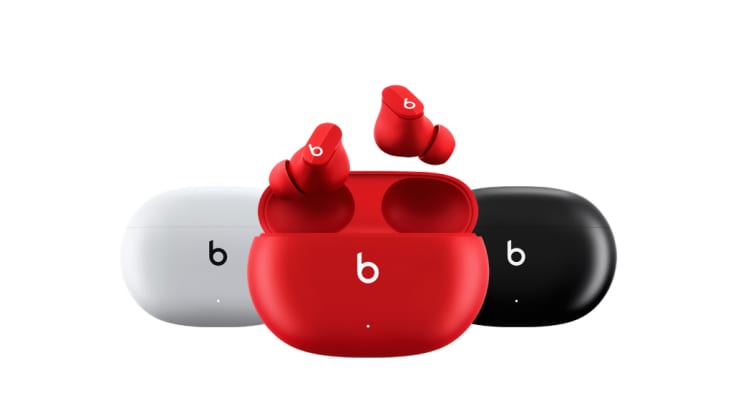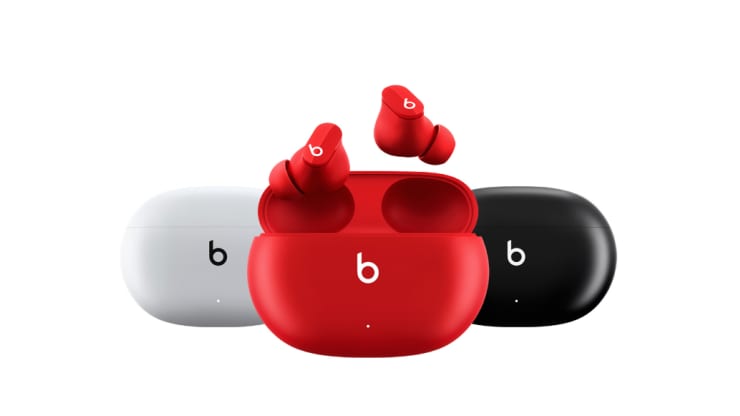 Apple Beats Studio Buds Specs
1.5 cm height and 5.1gram weight.
Three color options: black, white, and red
Active noise cancelation and transperency
Sweat and water-resistant with IPX4 under IEC standard 60529
Fast pairing on iPhone and Android
5 hours of battery life with ANC or 8 hours without it.. 24 hours of playback with the charging case, which features a USB-C port.
Price of $149.99
Design of Beats Studio Buds
Considering the design of Beats Studio Buds, they are small egg-shaped wireless buds that are really very comfortable and compact. Unlike Powerbeats Pro that is bulkier, heavier, and expensive.
These are available in red, black and white color. You can choose the best fit for you. It has a small USB-C port and led flash on the front. Unlike Apple's famous AirPods, it doesn't have a long stem or ear hooks hanging down the ear making it stylish in look. It features an in-ear design. And, you will get small, medium, and large-sized ear tips for a perfect fit.
They are small and lightweight that you can wear for long periods even during workouts. Each studio bud is 1.5cm in height and weighs about 5.1 grams instead of other buds that are heavier such as 20-gram of Powerbeats Pro, AirPods Pro, and Samsung's Galaxy Buds Pro. One feature that makes it more impressive is a tilted acoustic nozzle with vents that relieves pressure from the eardrum.
Beats claims:
Studio Buds were designed and engineered to prioritize high-quality audio playback and overall comfort — no matter if you're listening to music, streaming a movie, or chatting with a friend. The ergonomically tilted acoustic nozzle features a laser-cut micro-vent to ensure pressure relief on the eardrum.
Beats Studio Buds Sweat and Water-resistant Rating
Beats Studio Buds are sweat and water-resistant with a rating of IPX4 under IEC standard 60529. So if you have a hobby of listening to music for long periods during workouts or while traveling then you must choose studio buds. Note that, its case is not water-resistant so never try to charge wet studio buds.
Moreover, there is one flaw that we encountered. Since you have to press it every time into your ear once you need to change music or receive a call. During workout and with all the sweat, it goes all the way in and you realize it a little, once a mild pain sets in your ear.

Controls for studio buds
You can control the studio buds by turning top of each bud into physical buttons. Just remember:
Press one time for play, pause, or to answer a call
Two times to skip forward
Thrice to skip back
Long Press to switch ANC and Transparency Mode
This might sound disappointing to you at the start as you may accidentally press the controls while fitting the buds in your ear but with time you will get used to it. Beats may have added this feature to retain its compact design.
Audio Performance Review of Apple Beats Studio Buds
How do Beats Studio Buds Sound
These sound fine but not exceptional. The still have that signature Beats by dre. sound feeling into them. There is lots of bass and these are goof for hi sounds and drums and hip hop. But for lows and that clear hearing on mid tones, these are not good.
Active Noise Cancellation
The studio buds have an active noise cancellation feature that blocks external noise and focuses on audio you want to hear. No doubt this feature is not as premium as we get with Amazon Echobuds 2 but obviously better than its predecessor Powerbeats Pro that does not have ANC.
Though ANC is available in much less priced earbuds like Redmi AirDots 3 Pro, which works fine, given the fact that they are priced at 47USD.
Transparency Mode
On the other hand, if you want to hear a voice from your surrounding, just switch to transparency mode. And we must say that this mode is not quite as good as Apple Airpods. In Beats Studio mode you don't listen to surrounding voices quite clearly. The sounds seem muffled and at times you don't hear as to what's going on or you can't distinguish between different sounds.
Further, it has an 8.2mm dual-element diaphragm with a two-chamber acoustic design that produces lively sound. Like AirPods Pro, it also supports Apple's Spatial Audio technology.
Though we don't agree with the statement fully but Beats stated that:
Its powerful, balanced sound is driven by the proprietary 8.2mm, dual-element diaphragm driver, which features a central rigid piston with a flexible outer surround. Coupled with a two-chamber acoustic design, Studio Buds achieves outstanding stereo separation and low harmonic distortion across the frequency curve so you hear every note
Battery performance
Beats Studio Buds offer 5 hours of battery life with active noise cancellation and 8 hours without it. Further, with the charging case, it gives 15 and 24 hours of battery life with and without ANC respectively. The case does not have a wireless charging feature that's a bit negative part but it's fine as you can use its USB-C standard charging. The interesting thing is that it supports fast charging which can juice up these buds within an hour.
Connectivity
The feature that I like the most is that it can be paired with both iPhone as well as Android. For iPhone, you can pair it promptly as we did with AirPods. While for Android you will have to use the beats application.
The lack of Apples H1 Chip – The Cons
One thing that lack in these Apple beats studio buds is the H1 chip. That means you cannot pair multiple devices at once and if you have to change devices then you will have to repeat the pairing process. Fortunately, it follows "Hey Siri" commands. Also, you won't get volume control buttons on these buds as you get in more expensive Powerbeats Pro. These buds could be connected with Apple's Find My application. So when paired with Bluetooth you can relocate beats studio with its last location.
Our Final Thoughts
In short, we can say that Beats Studio Buds give you a comfortable, lightweight design, Active Noise Cancelation, transparency, cinematic sound quality, and compatibility with iPhone as well as Android. However, it does not offer wireless charging and an H1 chip. If you do not usually switch devices then this may be a good choice for you for just $149.99!