Samsung is currently excelling in the production and sale of a foldable device. As they believe it's the future of handsets. After the Galaxy Z fold, 2 and Z flip Samsung is preparing to release 2 more foldable devices. Samsung is going to launch Galaxy Z fold 3 and Z flip 2 this year's July-August launch event. However, besides these foldable devices, there are some rumors about a Galaxy tri-fold Z tab too.
A reliable tipster leaked to Gizmo China that Samsung is working on a tri-fold Z tab. Which could be released in the first quarter of 2022. Samsung has previously leaked a tri-folding design but no one guessed that it's for a tablet, not for a handset. Moreover, there are also some leaks about a new stylus featuring this foldable tablet. Rumors suggest, that Z fold Tab will come with reinforced UTG (ultra-thin glass). The same UTG that is going to debut on the Samsung Galaxy Z fold 3. Moreover, we already know that Z fold 3 will have S-pen support.
We can assume that 7.6 inches wide Galaxy Z fold 3 can be the test device for the Z fold Tab. We don't know more details about the Z fold tab. But if it's tri-fold then there must be a huge display. While tipster Yogesh said that Samsung might leak the tri-fold Z tab in the recent launch event. But Samsung is still not flaunting about it.
Samsung didn't share the idea of the foldable tablet for the first time. It has considered a clamshell foldable design before too. However, this time it's a tri-fold Z tab and last time it was a clamshell tab. So until the device is in production mode we can't predict the final product. The Engineering team's intellect and working choices can change the final product until they finalize the design.

Samsung's foldable sale predicament – Galaxy Z fold Tab or a Z fold handset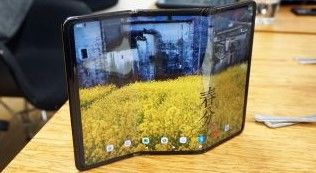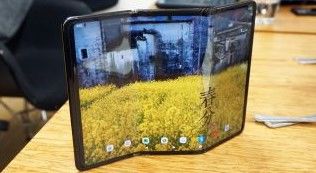 It's still a mystery whether we would be able to use the Galaxy Z tab folded handset or not. Because if that's the case then there is no distinction between the Galaxy Z fold handset and Z fold tab. . The 7.6 inches wide screen of the Galaxy Z fold has already given the tab equivalent display to the user with easy portability. So having a Z fold handset can logically reduce the market of Z fold tab. However, A very large screen can blow that. But then the question comes in. Do people carry tablets around when a handset can fill the need?
The market of the Z fold tab depends on people's priority and way of use. It's baseless to get a foldable tablet to reduce the size if you only use it at home. But if it's your gadget to carry while traveling then the Galaxy tri-fold Z tab is for you. It will make the drill easier by occupying less space. Besides, your screen will stay scratch-free because of other things in your bag. As it will no longer be exposed thanks to the fold.
The Galaxy fold device cost a huge price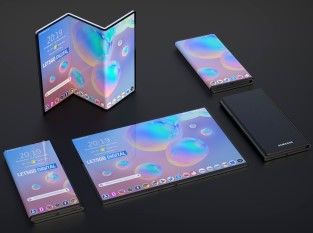 The debate doesn't end here. There is another huge point to discuss which is price. Samsung folding feature does not come cheap. Display cost a lot and thus the final product. Galaxy Z Flip 5 G's initial price was $1,449 and the Z Fold 2 sold for $1,999 which is huge. Though Tablet won't need other mobile internal components excluding the LTE (only if it's available in the model). Its large display with a folding feature will be quite expensive.
So considering the fact Z fold tab can cost people too much. We think the Samsung Galaxy tri-fold tab would face difficulty in the sale. Just think, when a handset fulfils the need for a tab in $1,999 why would someone consider investing in a tab.
We are uncertain whether the technology prices will go higher or lower. So it's difficult to predict the price of the Z fold tab as it will launch next year. Whatever the product is, the innovation always captures the market. Everyone likes a new experience. But it should be in the people's reach too.
All of this update was about Samsung foldable displays. But Oppo,iPhone, Huawei, and Google are also producing their foldable handsets. Many are releasing soon. Read about them until we bring you more sizzling updates. Regarding iPhone flips or foldable, we are unsure as to when Apple would venture into the foldable market.