Xiaomi Smart Band or Mi Band is one the most popular wearable bands across the globe. If you want to buy an affordable or cheap fitness tracker, Xiaomi smart band 6 should be on your list. It's available at a price of 6,699 PKR in Pakistan. In Bangladesh, it is priced at 3500 BDT, whereas in India Mi Band 6 is costing around 2500 INR.
Mi Band 6 features include a bigger display and pulse oximeter that you can get at a lower price. It is not similar to other smartwatches but has its unique design and specifications.
Last year, Xiaomi band 5 was launched with an OLED screen and magnetic charging. This year Xiaomi band 6 is here with a fullscreen 1.56″ AMOLED display. Through which you can easily check messages, calls, and notifications with a quick glance.
Mi Band 6 Specifications
Display:

1.56″ AMOLED display

Display Resolution:

152*486

Sports:

30 fitness Sports modes

Wireless connection:

Bluetooth 5.0

Waterproof Rating:

5 ATM

Battery capacity:

125 mAh

Battery life

: 14-day extra-long battery life with a magnetic charger

Sensors:

High precision 6-axis sensor and PPG heart rate sensor

Strap buckle material:

Aluminum alloy

Display cover material:

Tempered glass with anti-fingerprint coating

Supported systems:

Android 5.0 or iOS 10.0 and above

Health:

Heart rate and sleep monitoring with women's health tracking

Body dimensions:

47.4 × 18.6 × 12.7 mm

Body net weight:

12.8 g
Mi Band 6-Design
Xiaomi smart band 6 is a tiny piece of plastic with tempered glass on top of the screen. Its net weight is 12.8 g with the dimensions of 47.4 × 18.6 × 12.7 mm.
The updated feature unlike band 5 is that it has a full screen 1.56 AMOLED display with 326ppi resolution. Which is brighter and clearer making it easy to check your stats at a glance.
Furthermore, it has precisely cut rounded edges that make it comfortable to wear and attractive in look.
It has more than 60 built-in band displays specially designed for the larger screen. Which can be easily seen by raising the wrist.
The band comes in six different colors (Black, Blue, Orange, Yellow, Olive, and Ivory). Moreover, you can choose as per your mood.
The Buckle's pin-and-hole design of the strap makes it easy to wear. But, unfortunately, may not have a good grip during heavy work out.
Mi Band 6-Health and fitness monitor
Spo2 Saturation
Xiaomi smart band 6 is a small fitness tracker that helps in the easy track of your blood oxygen saturation in this pandemic with its inbuilt pulse oximeter. Apart from this, it also monitors regular stress levels.
Sleep Patterns
This smart band accurately monitors your sleep such as duration of sleep, light – deep, and REM sleep. Along with changes in your heart rate. With this monitoring, you can improve and develop healthy sleeping habits.
Female Health Tracking
Xiaomi has added one of the most demanded features. It also helps track women ovulation cycle patterns making them relax and less worried every month
Exercise
It's a personal trainer at your wrist; there are various indoor and outdoor fitness modes in this band
Band 6 has new indoor 19 fitness modes such as basketball, Zumba, HIIT, boxing, and ice skating. That measures your workout duration, heart rate, and calories burned. Thus keeping track of your health condition.
It automatically tracks 6 fitness modes include running, cycling, treadmill, and rowing machine. This means that you don't have to manually start a tracker for these exercises.
Although Mi band 6 is rich in features, however, it does not monitor your blood pressure or advanced level ECG. Blood pressure and ECG monitoring features are available in high-end devices like Samsung Galaxy Watch Active 2 or Galaxy Watch 3
Navigation

Xiomi band 6 has no buttons on it like that of band 5 or band 4. It depends only on swipe gesture for navigation.
Up or down swiping brings the main menu with Status (steps, distance, and calories), Heart Rate, SpO2, Notifications, Workout, Events, Alarm, Weather, Music, World Clock, Settings, and more.
Left or right swiping action on the band brings few shortcuts that could be customized. Such as weather forecast, music shortcuts, camera shutter.
If you want to reach home menu you would have to swipe to the left unlike band 5 which has home and back buttons.
Battery life of Xiaomi Mi Band 6
The smart band 6 has a Lithium-ion polymer battery with a capacity of 125 mAh. It has 5 days battery life with heavy use. 14 days in normal mode, and 19 days in power saving mode.
Note that, features like sleep tracking and all-day stress monitoring drain the battery drastically. Lastly, it would recharge in about 2 hours.
Water-Resistant Rating
The water resistance rating of 5ATM of Xiaomi smart band 6 makes it suitable for showering and swimming at depths up to 50m.
Make sure to remove it before any high-speed watersports.
For more accurate tracking you can select any one of the five different swimming styles.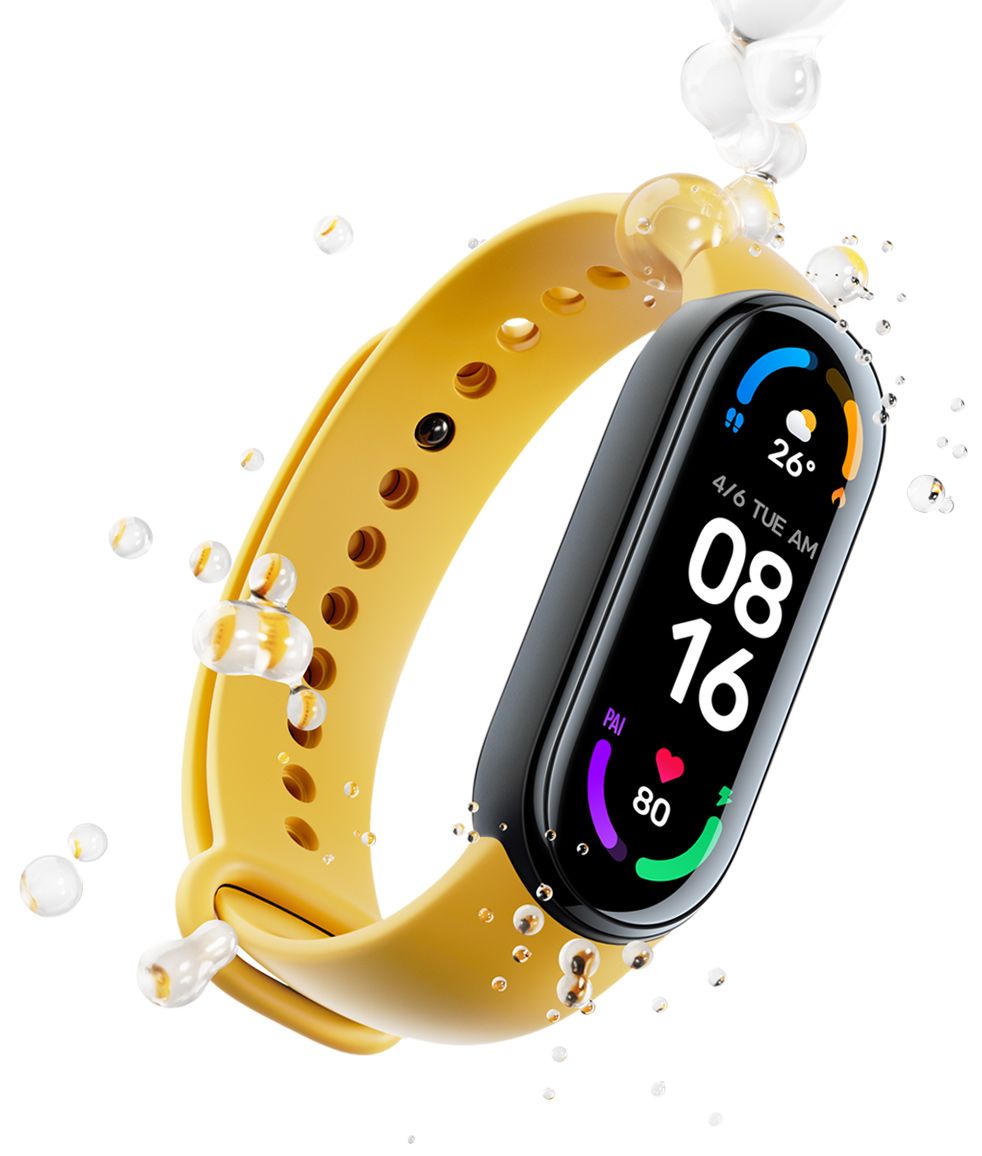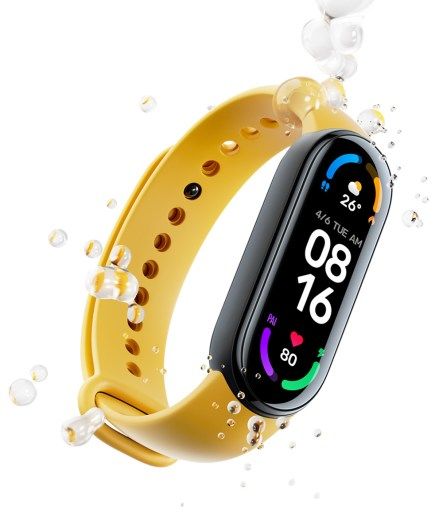 Conclusion
The Mi smart band 6 is a cheaper alternative to expensive smartwatches.
It cannot beat the features of other brands. However, at a cheaper cost, you will get a small, lightweight, and waterproof smart band with other amazing features.
Its bigger and clearer display with oxygen saturation monitoring, regular stress tracking, fitness tracking are some essential features that you are getting at a very low price.
So, if you are roaming in the market to purchase a good fitness tracker on a low budget you must consider Mi Band 6.