Most of the tech companies are competing to bring the augmented reality-based wearable or hardware to win the market. Samsung is chasing the production of AR glasses for a long time. Recently a video appears which has sent a thrill of excitement to tech lovers. The company has never shown interest in making augmented reality wearable computing devices before, and now it's amazing for us to know about the production of Samsung AR glasses.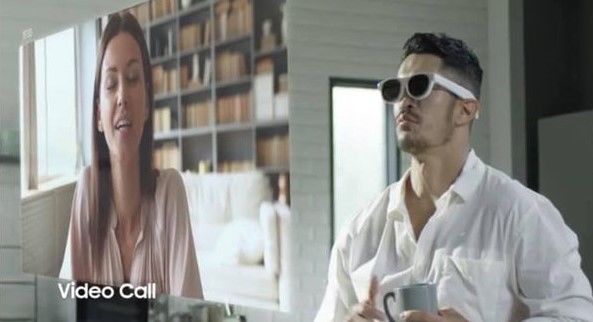 A fairly reliable source "walking-Cat" published two new concept videos. First Video leaked fun facts about things a pair of "Samsung AR Glasses Lite" can do. Excitingly, these glasses will be able to project a giant virtual screen to play games. Moreover, it will be giving a private movie theatre feel with a giant virtual computer monitor. Furthermore, it will be able to fire up an auto-dimming "sunglasses mode," or act as an instant first-person-view screen for your DJI drone.
Secondly, another video showed something more amazing. It showed a 3d object projected by "Samsung AR glasses ", which look quite like the first one. Whereas visual is quite real and fascinating but we can't say anything until we get to use it.
The most eye-catching thing in the video was the interface navigation of the "Samsung AR glasses" with the smartwatch. This idea is really amazing and I think people will love this handy face of technology. Augmented reality glasses with a smartwatch means ease. Resulting in decreasing the need of carrying a laptop with just a few wearables and you are always ready for everything.
Companies working on products like Samsung AR wearable
Many other companies like Apple, who are working on their AR headset, and Facebook who is working on their smartwatch will consider this as a rival and sources reveal that Apple and FAcebook are also persuing the technology.
So let's see which one of them hit the market before the other. Till then! Stay updated and follow us on Facebook and Technews!