Tecno is a very underrated mobile brand that launches amazing handsets every year. It is famous for its mid-range handset production with exceptional features. Now, Tecno is launching the new Camon 17 series on the 11th of June 2021. We have already given you a detailed description of its key features. But now we are here with the official price update of the Camon 17 series in Pakistan.
Tecno is releasing two variants in Pakistan. A standard Tecno Camon 17 and 17 Pro. The price of Tecno Camon 17 has been revealed whereas Tecno Camon 17 Pro has not been disclosed.
Tecno Camon 17 Price- The catch
So here is the catch. Tecno Pakistan has been giving teasers of 17 Pro on its Facebook page with a 90Hz refresh rate and MediaTek Helio G95 processor. However, Tecno 17 has been opened for pre-booking. So people might confuse it with the Pro version and go for it and later on regret it as well. As they will be getting the lower variant. So before going for it, must carry out a detailed analysis of specs of Camon 17 and Camon 17 Pro, as to what is going on here.
Tecno Pakistan's official page of Facebook has revealed the price of Camon 17. And if we look at the specs of Camon 17, the price seems fair, though not extraordinarily low. Camon 17 standard version is priced at Rs 25,000 (PKR).
Prople must know, that standard Camon 17 does not have 90Hz refresh rate and Mediatek G95 is not there as well. Moreover selfie camera is 16 MP. Although it does have 6GB/ 128GB storage option. So keeping in view the specs, price is justified. However, the wrong marketing move is not welcomed.
Tecno Camon 17 price and specs vs Poco M3 Pro
Comparing it to Poco M3 Pro 4GB/ 64 GB version seems like a fair deal. Poco M3 Pro is available for 29,999 PKR. And POCO M3 Pro 6GB/ 128 GB is available on Daraz for 32,999 PKR. But the spec sheet is better in all departments as well. For detailed specs visit our detailed news coverage of Poco M3 Pro.
As of now, we are not sure as to how Tecno is planning the launch of the Camon 17 series. Keeping the track record of Tecno Pakistan in mind, we suspect that, like Tecno Spark 7 Pro, the launch of the Camon 17 series will be on a similar basis. Tecno would conduct a live launch ceremony on its social media platforms through collaboration with Pakistani Tech Youtuber.
Tecno Camon Pakistan dishonesty with People
We do not welcome the marketing move of Tecno Pakistan. Where they were giving teasers of Camon 17 Pro to its audience and then all of a sudden they have opened standard Tecno Camon 17 for pre-booking. People might be pre-booing the set basing on specs teasers of Camon 17 Pro. People might be rushing for booking the handset basing on the low price.
Tecno Pakistan must learn that this will cost them in the long run. Moreover, we asked Tecno Pakistan, regarding this on their Facebook page, but we did not get any suitable answer in return.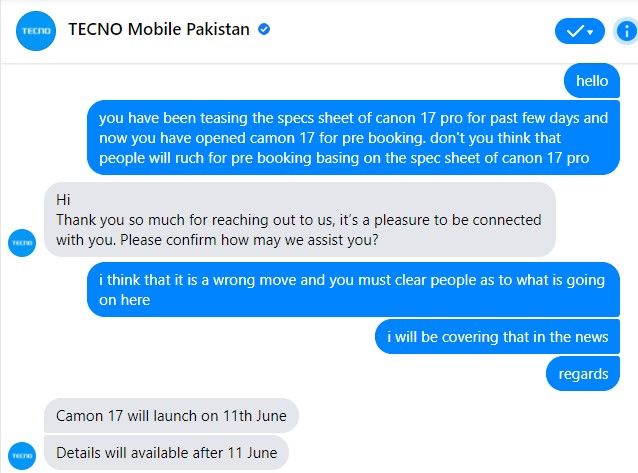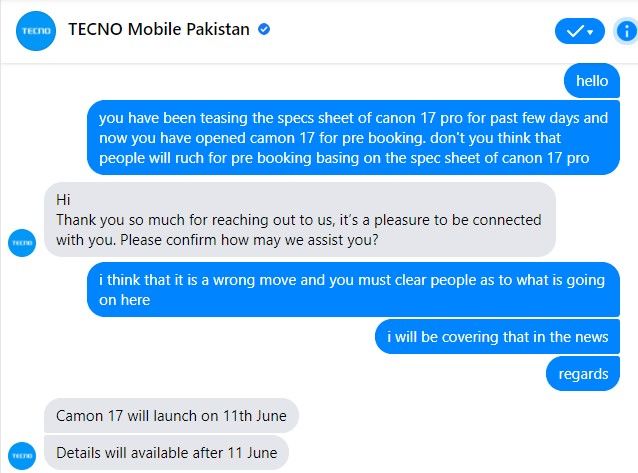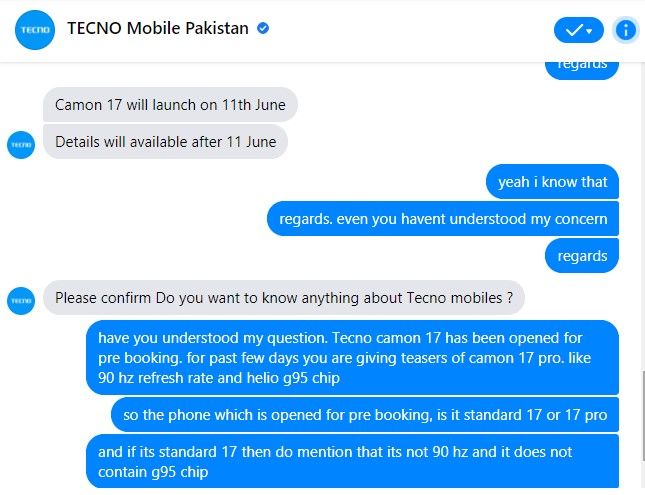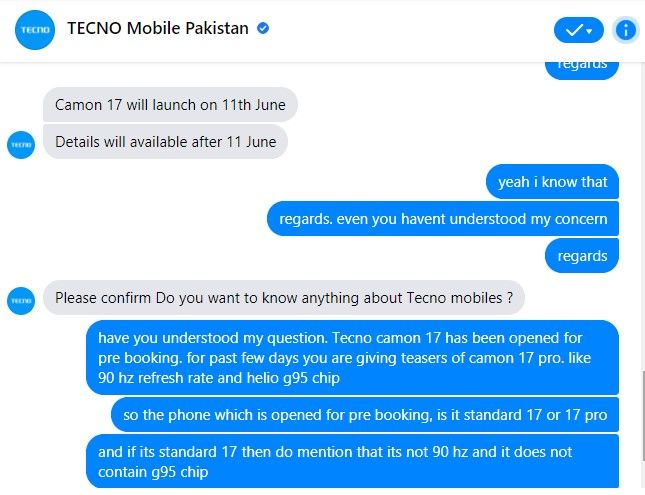 We expect Tecno Pakistan to act as a responsible company and keep their audience educated that standard Tecno Camon 17 is up for pre-booking and must write the specs alongside it.
Price of Tecno Camon 17 Pro in Pakistan
Keeping in view the specs difference between Camon 17 and 17 Pro, we expect the price of the upper variant to be around 32000. However, we are not sure and we will update the price as and when we get it. Moreover, if we get any clarification from Tecno Pakistan, we will update our article.
For more news, stay tuned.