Are you among those, who loved Samsung Galaxy Flip 2 Thom Browne Edition? if yes, we have interesting news for you! Rumors suggest that Samsung will launch Samsung Galaxy Z Flip 3 Thom Browne Edition. Thom Browne is a renowned fashion designer from New york. He is the founder of the Thom Browne brand.
The previous year we had Galaxy Z Flip Limited edition. It produced skyrocketing sales in just a few hours. In addition to Galaxy Z Flip 3, the Galaxy Z Fold 3 model Thom Browne edition may also announce but it is yet unknown.
Let's get into the details!
Design and Unique Features of Samsung Galaxy Z Flip 3 Thom Browne Edition
The Z Flip 3 Thom Browne model will have three color strips including red, white, and blue colors. The strip will run at the back and front side excluding the camera and screen. Also, the Thom Browne logo will imprint at the back of the phone. The dual-tone smartphone will have a black glass plate over the camera and screen.
There will be everything similar to other variants of Galaxy Z Flip 3 except some software updates. Galaxy Z flip 3 limited edition released in the past also had some upgrades over its other variations. As per this, we expect some exclusive Thom Browne wallpapers, themes, pre-installed Thom Browne application, and extra fonts in this smartphone.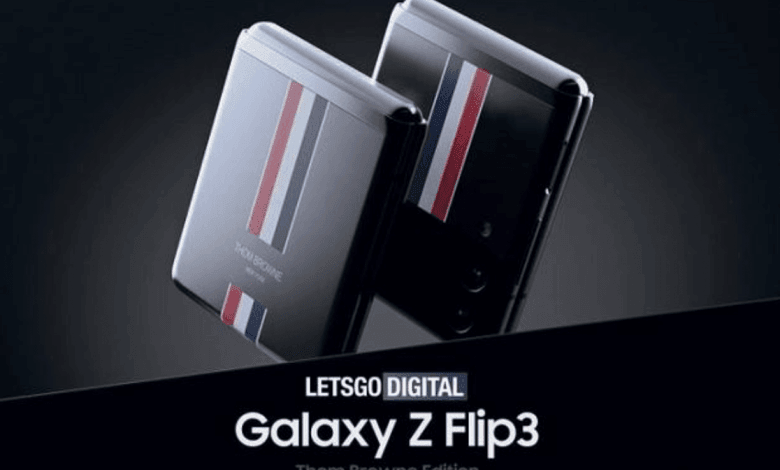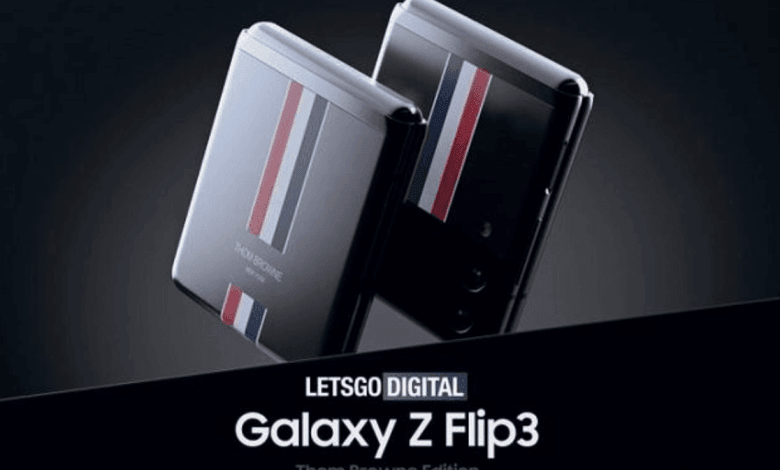 The model in the image (above) is an illustration design by Italian Graphic designer Giuseppe Spinelli. The design was developed as an illustration of the Galaxy Z Flip 3 Thom Browne edition mobile phone. This design has gray matt housing with a triple color stip.
This new model will have slightly smaller dimensions and smaller screen edges. It will have a 120Hz refresh rate in contrast to 60 Hz found in Galaxy Z Flip. Its display will be 1.83 inches and will have protection from dust, water, and sweat.
Interestingly, Z flip 3 will have a 12-megapixel wide-angle and ultra-wide-angle camera with a 10 MP selfie shooter. And will have Qualcomm Snapdragon 870 SoC processor, 8GB RAM, and 256 GB storage. It will run on Android 11 and UI 3.1. Fortunately, you will be able to use this amazing smartphone as Computer. You won't need DeX Station or DeX Pad to do so. It will enable wireless pairing with wifi, and smart tv in your home.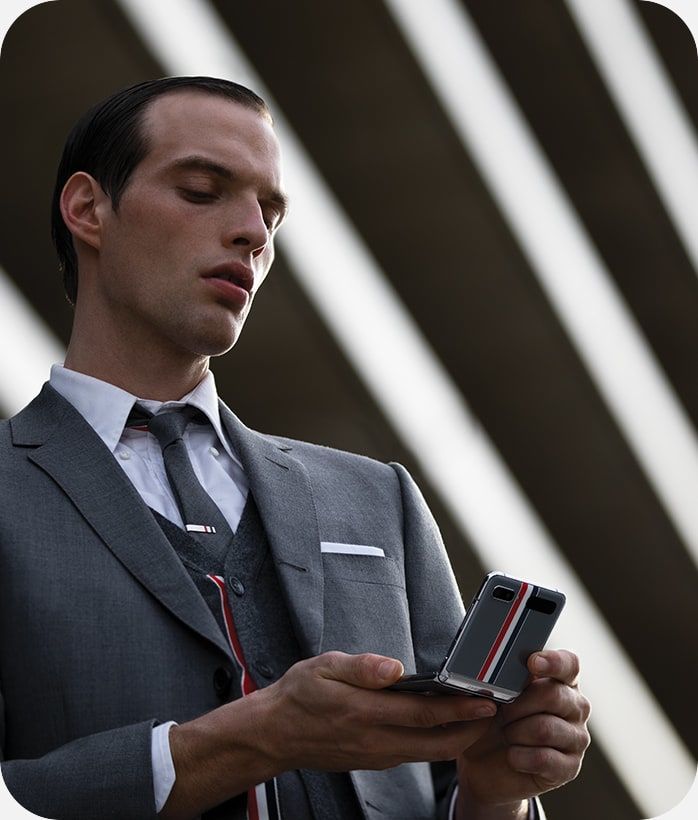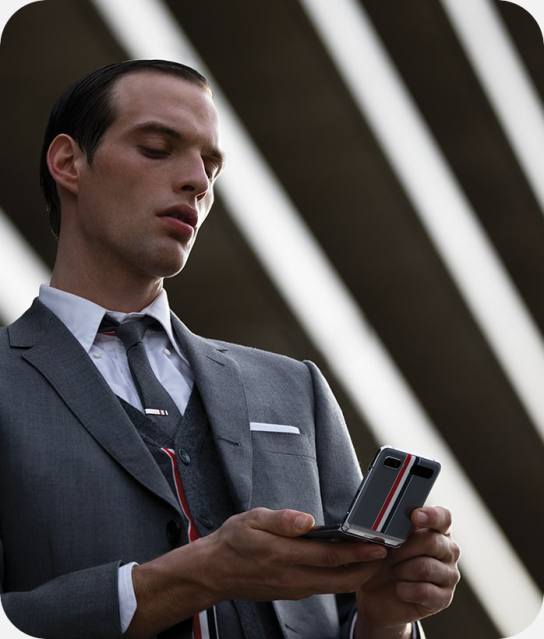 Price And Release Date Of Z Flip 3 Thom Browne Edition
The expected price range of Galaxy Z Flip 3 is lower than Z Fold 3. We already know that regular Z Flip and Fold 3 will be priced lower this time. However, we don't know the exact price at which the limited edition model will sell. Previously, Galaxy Z Flip Thom Browne was sold out in only a few hours and if the price will be cheaper this time, it will be really attractive.
We think that this latest model will release later than other variants, which we will observe in the Samsung unpacking event in August.